On Hold! New Update & New Photos!
Gender:
Female
Age:
11 weeks old
My Special Sponsors:
Available for sponsorship!
---

Needs to have a fenced environment and would benefit from obedience training.

Suki is an adorable pup! She has been vetted and is being treated with antibiotics for a UTI, as well as skin irritation that is caused by possible urine leakage. At this point it isn't clear if the leaking urine is caused by the infection or if it is an ectopic ureter. A culture has been sent out to help ascertain the cause. She is headed to her foster home for TLC and good nutrition. Stay tuned for follow up details on her health and developing personality.
---
Foster Update: 9/19/23
Suki is a 6-month-old happy and energetic golden. Kids and dogs are her favorite playmates. She does great walking on a leash and can easily walk a few miles. Suki can play for hours with toys and loves chewing on bones. At night once she's all tuckered out she walks right in her crate where she sleeps through the night without any issues. Suki had surgery to repair an ectopic ureter at OSU last month. While this greatly reduced her urinary leaking, she still needs to wear a diaper, which she wears without complaints.
______________________________________________________________________________________________________________
Foster Update: 6/2/23
Hi my name is Suki. I'm a 9-week-old golden retriever with a suspected ectopic ureter. My foster home is taking me to OSU for further evaluation and treatment. My favorite thing to do is play with my foster sisters and getting lots of cuddles. I enjoy running around outside and chewing on toys. I've already mastered potty training and have learned to sit on cue. I even sleep through the night with no accidents! My foster moms say I'm the best puppy they've met and have a great temperament. I love other pets and am always up for going on an adventure.
---
Foster Photo 9-20-2023: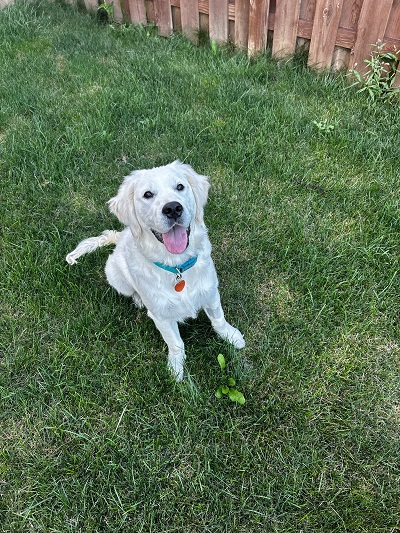 Foster Photo 6-4-2023: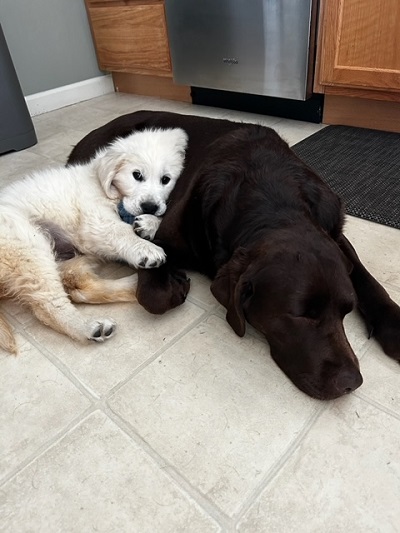 Foster Photos 5-26-2023: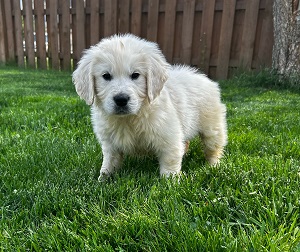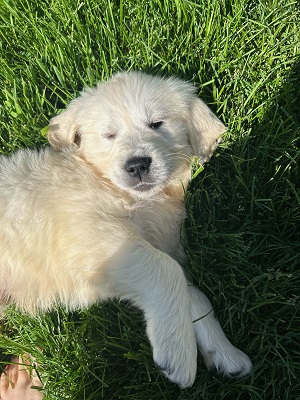 Intake Photos: