Adoption pending!
Gender:
Female
Age:
6 years old
My Special Sponsors:
Available for sponsorship!
---

Needs to have a fenced environment and would benefit from obedience training.

This girl has it all going on! Sandra is a sweet, social, happy, and friendly breeder relinquishment. She is a pretty English cream, and loves to walk. Sandra melds well with kids, dogs, and cats. She is going to have her adopter gushing about her.
---
Foster Update: 7/24/23
Sandy is an absolutely lovely girl, with her blockhead & cream color. She loves to chase squirrels, cuddling, being outside, sleeping, being brushed, treats, cats, kittens, & most other dogs. She is not a big toy player. She loves being close to you and is a love bug in bed & loves a snuggle. Sandy is a typical Golden & likes to be near her people, but needs a physical fence as she would leave the yard like a bullet if there's a squirrel to chase. Sandy was just diagnosed with cancer after having a cutaneous mast cell tumor (grade II, low grade) removed. Unfortunately, there is no single test or measurable feature that could unequivocally establish her prognosis. However, given the tumor's grade, its complete excision, and mitotic count (0 in 10 high power fields with a field of vision of 2.37 mm 2, and margins relative to healthy tissue, her prognosis could result in her living the average lifespan of a female golden. Sandy is truly deserving of a loving furever home!
_______________________________________________________________________________________________________________
Foster Update: 6/19/23
Sandra is great with other dogs, curious about cats, and wants to play with anyone that will play back. She loves being petted. She is learning to walk nicely on a leash and is getting used to daily walks. She's great in a car & likes car rides. Her foster mom says, 'this dog is awesome'!! Sandra has more energy than most other dogs of the same age. She would do very well with another dog to help with confidence and a dog who is playful, i.e., knows how to play fetch. If the resident dog runs, Sandra runs…she is learning by mimicry. Sandra would be love a home with kids, resident or visitors & enough people to give her plenty of the attention she craves!!!
---
Foster Photo 7-24-2023: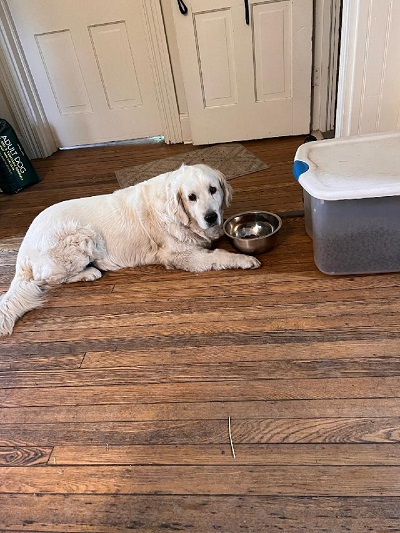 Foster Photo 7-8-2023:
Foster Photo 6-5-2023: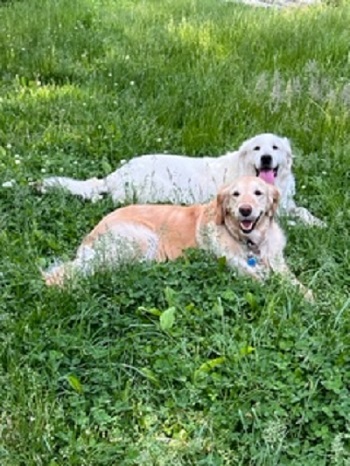 Intake Photo: