Available for adoption-Update and New Photo!
Gender:
Male
Age:
8 years old
My Special Sponsors:
Available for sponsorship!
---

Needs to have a fenced environment and would benefit from obedience training.

We're glad to take in red haired Dwight! He's going to find that GRIN adopters shower their precious dogs with love and attention! Dwight appears to have been neglected previously, he's a smidge overweight, and has bad ears, worn teeth, hookworms and a hot spot on his leg. He's been vetted, had a dental, and is being treated for his other issues. Our vet said he's friendly and craves attention. He's off to foster where he'll get that!
______________________________________________________________________________________________________________
Foster Update: 9/11/23
Dwight is a wonderful sweet Golden with great house manners. He has never had an accident in his foster home. He's around 8 years old, but who really knows for sure, and the D-Man isn't telling! He's very playful and gets along great with the two resident dogs. He doesn't appear to have any prey drive, so we guess he would probably get along with cats. He is hard of hearing. He loves to go for a walk and will dash out the door in anticipation of a walk! He does LOVE to chew so his forever home will need to supply him with chew toys, Nyla Bones seem to be a favorite. He likes to take slippers, pillows and blankets, not to chew but just to have them. He gives them up easily when asked. If the resident dogs are playing with a toy, he just watches them.
If he's sleeping, he will not hear you approach him, but will feel the vibrations from you walking towards him. If you raise your voice, he hears something, but doesn't follow cues. He's such a joy to have around, always happy and ready for a belly rub. Dwight's never met a treat he doesn't like, but no carrots or bananas for him! We add green beans to his kibble and he eats them right down.
His ideal home is with someone who is there most of the time. He's not been around children since coming to our home, but I think older children would be fine. A fenced in yard would be great as he is a door dasher. He's content to just lay next to you, get belly rubs, a pat on the head, or just sleep.
---
Foster Photo 9-11-2023: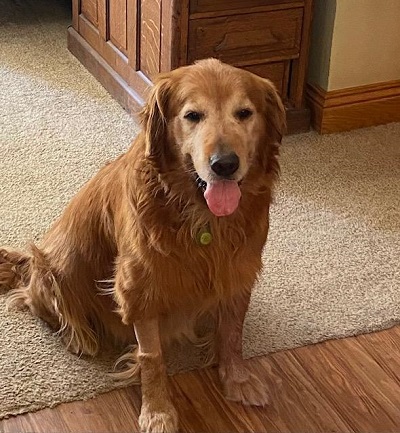 Intake Photo: