On Hold! - Update & New Photo!
Gender:
Male
Age:
11 months old
My Special Sponsors:
Available for sponsorship!
---

Needs to have a fenced environment and would benefit from obedience training.

Avalanche came from China with GRIN's Ski Patrol Team. He has a congenital condition that has left him blind. This boy is sharp as can be – within a day at his fosters he learned to navigate the stairs. Fortunately, GRIN has many very savvy fosters – Avalanche is currently residing with a one very acclimated to blind dogs and their needs. This special boy is very playful and likes the resident dog. He is thin as can be, and his foster says she can feel every rib (this will change!).
---
Foster Update: 1/11/21
Avalanche, The Explorer checking in. I have been figuring out every nook and cranny of my foster home and anything that may be similar to a food bowl (like a clay crock) will find my head in it...never know if there might be something appetizing in there! I'm working on "4 on the floor"as anytime there's a hint of food on the counter I like to check it out. Yes I am a bit of a foodie...I don't know why my foster mom stops me from entering the fridge every time she opens the door, I would like to make my own choices! I am doing well going up the stairs to the house and doing consistently better going down (you try doing that in a new space with your eyes closed). I am responding to my name and working on this thing called "potty training." Really enjoying getting to know and play with the resident dog in the household...check me out taking a break from playing with him. I am very curious outside , tilting my head to any noise whether it be birds, music, or cars. Thanks everyone for checking in with me!
---
Foster Photo 1-10-2021: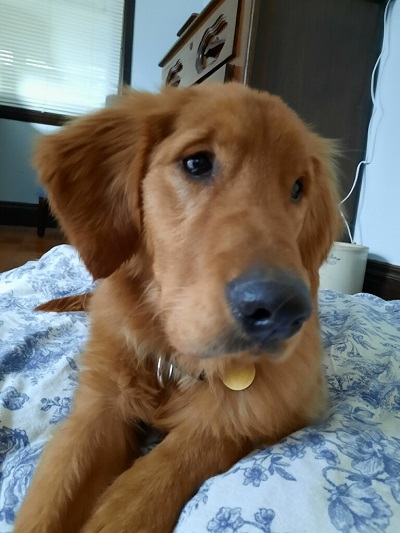 Foster Photo: