On Hold! Update, New Photos and YouTube Video!
Gender:
Female
Age:
3 years old
My Special Sponsors:
Christine Howlett
Sheryl and Mike Whalen
---

Needs to have a fenced environment and would benefit from obedience training.

Hannah came to us from a shelter. Unfortunately she was hit by a car when she was on her own. Our vet partners determined she had multiple fractures. She went to a terrific specialist who performed a complicated and lengthy surgery to repair her injustices and stabilize her pelvis. Her recovery will consist of up to a month of being helped to walk with a sling. Then an additional 6 or more weeks of crate rest with leash walking. We'll keep you updated and welcome sponsors to cover her medical expenses.
---
Foster Update: 2/23/21
Hannah is very friendly and has adapted very well to being in a new home. She endures the much-needed cage rest and enjoys chew toys to pass the time.
Her activity is restricted, but she does fine with the couple of small stairs going outside. Hannah is a little skittish at the door, which is often a trait seen in mill dogs. Hannah is fine with a sling but pulls hard. Leash training will be needed in the future. She is now doing 5 minutes of walking daily and she loves her time out of the crate.
Hannah is still learning about peanut butter and dog treats. Her foster parents discovered that she likes goose pate! This works great for her meds.
Hannah is curious and seems to be quite intelligent. With all she has endured, she is eager to please everyone who treats her with love.
---
Foster Photos 2-12-2021: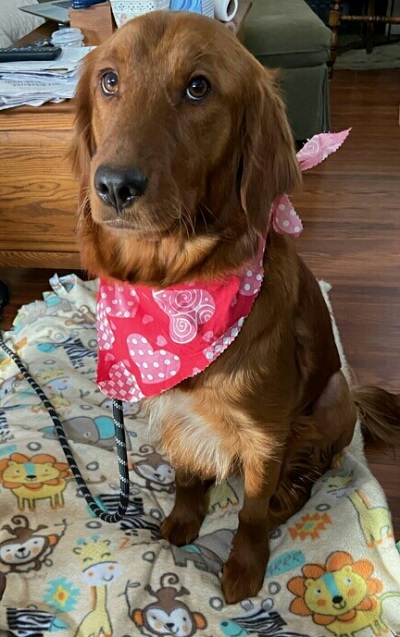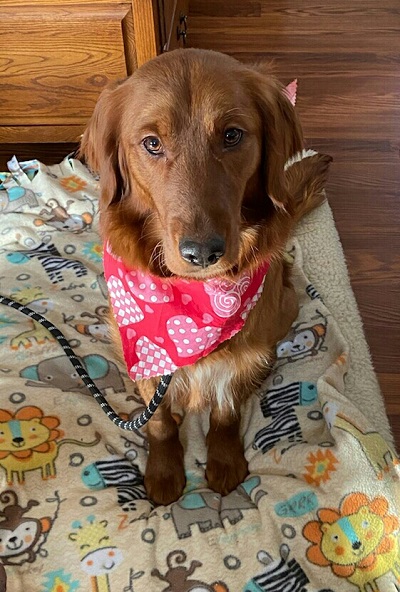 After Surgery 1-27-2020: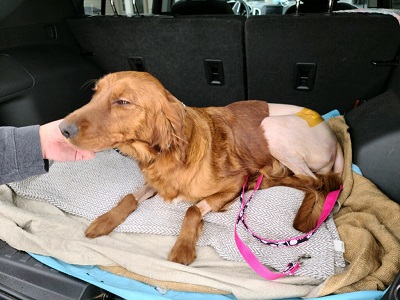 Intake Photo: