On Hold! Update and New Photo!
Gender:
Female
Age:
4 years old
My Special Sponsors:
Available for sponsorship!
---

Needs to have a fenced environment and would benefit from obedience training.

Cypress came to us when we answered a call for help from Rico Pet Recovery. They were working in Southern Ohio to rescue 11 dogs which had been dumped in a rural area. A property owner was feeding the dogs who were roaming the general area. GRIN agreed to take in and help with 4 of these dogs who appeared to be Golden or Golden mixes. She has skin infections, a UTI, needs weight, and had a dental. She has been vetted and is on medication to address her health. A foster has stepped up and she'll head there for regular meals and rest and recovery.
---
Foster Update: 6/2/21
Cypress is becoming a dog again! When Cypress came to us she was unsure of herself, a little lonely and sad. It's been almost two weeks and she's really coming into her own. She is fully house trained, which is amazing given her past, and is such a sweet girl. Surprisingly, she is a little like an only child, easily finding ways to amuse herself if the resident dog isn't interested. She loves to play fetch in the yard, sleeps nicely in her crate at night, and does like to have a ball or something to chew on near her most of the time. When it's time to take a break, she will cuddle right up next to you and take a nice nap. She and the resident dog are getting along well – no food or toy aggression – she's unknown with cats or children, but she greets every visitor warmly and loves getting a pet. My neighbor marvels at how far she's come in such a short time. Cypress is going to make someone a wonderful addition to their family.
---
Foster Photo 6-2-2021: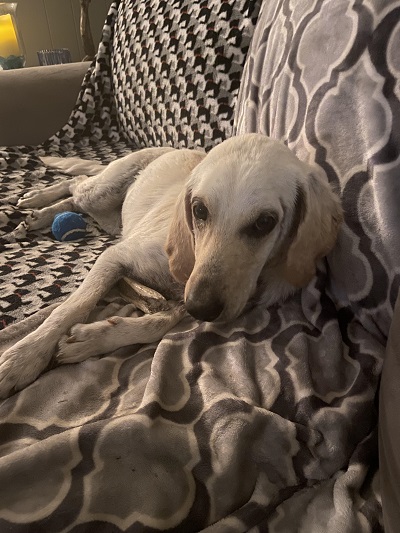 Intake Photos: