Adoption pending!
Gender:
Male
Age:
10 years old
My Special Sponsors:
Judy Peters in memory of Tonka
Rochelle Latkanich, in memory of my GRIN senior boy, Douglas and GRIN Turkey dog, Sundance
---

Needs to have a fenced environment and would benefit from obedience training.

This handsome man came in with his fur sis, Abby, whom he adores, so we'd prefer to place them together. Their owner is ill and cannot care for them any longer – sadly – she loves her animals. Both dogs are good with other pets – they were raised with a cat. The duo is used to a traditional fence, likes walks but do pull on a leash, their adopter will need to work on this. Other than that, they have good home manners and are overall great Goldies.3
---
Foster Update: 10/15/21
Hi GRIN friends! Marley here. I am in a new foster home with two four-legged foster canine brothers, Brews and Toby. They are young pups and sometimes need to be reminded that I just like to chill. My favorite time (aside from breakfast & dinner) is being outside. I am constantly on squirrel patrol and make sure they do not sneak under the fence. I have found that running around squeaking my red, spikey ball is a pretty good deterrent, not to mention fun. I have been on one walk and there was so much to see and smell I pulled Mom everywhere. She was afraid I would hurt my neck where I had surgery so my walk was cut short. I just got fitted for a harness and Mom said we would try an outdoor walk again soon. I can't wait. Another thing I like is when the grandchildren come over. They are all big kids and will pet me as long as I stand there and I can stand there a long time! I have only been on the furniture once, and that was when Brooke came. I jumped right up on her lap. It was worth it because I got kisses. I like kisses. By the way, I went to see Dr. Padgett this week at Metropolitan Veterinary Hospital and my ionized calcium levels were in the normal range. I am not sure what that means other than he said that was good and that he did not need to see me for another 3-4 months. I am glad I did well but I really liked seeing him and his staff. They are really nice. Well, I had better go and get my morning nap in so I can be ready in case it is walk day. Hope you all have a fantastic fall and enjoy the out-of-doors as much as I do.
____________________________________________________________________________________________________________
Foster Update: 9/8/21
Marley's surgery went well. He spent several days in the hospital and is now recovering in the care of his loving foster mom. His calcium levels will be monitored closely as he is weaned off the medication over the next 6 weeks. Assuming all goes well this sweet senior will be ready for adoption. Marley's surgery expenses are projected to be around $5,000. Thank you for all who have donated to offset his medical expenses. If you wish to donate you can do so via the website at http://www.grinrescue.org or via check. http://www.grinrescue.org/?fbclid=IwAR21UgW77GLGW_Y1Jauo16wiQc-r1wq3ZrH2G0d6ui6jLuqsk5koY_EiZoY
_______________________________________________________________________________________________________________
Foster Udpate: 8/23/21
Senior boy Marley continues to enjoy life in his foster home. This boy loves his red squeaky ball and gets very excited about playing in the backyard. While his hips are a bit weak it does not stop him from enjoying his time outside. Marley came in with a handful of medical issues and one by one GRIN has worked on getting his health back on track. The next big step in his medical journey will be going in for thyroid surgery on August 31st. The vet is very positive about the prognosis of this surgery which will improve his quality of life moving forward. Please send some positive thoughts & prayers for Marley as he undergoes surgery in the next few weeks.
_______________________________________________________________________________________________________________
Foster Update: 6/1/21
Marley is a 10 year old tall, gentle giant (76 lbs). He adores being fussed over and petted. He gets along well with other animals, always wanting to be together with his foster mom and the other five dogs and cats. (No moping alone for this teddy bear!) He will do best in a home with at least one other dog. We are told he loves carrying around a stuffed toy in his mouth. Marley has a little arthritis and is getting over pneumonia. He came into GRIN's care with his sister, Abby.
---
Foster Photos 10-7-2021: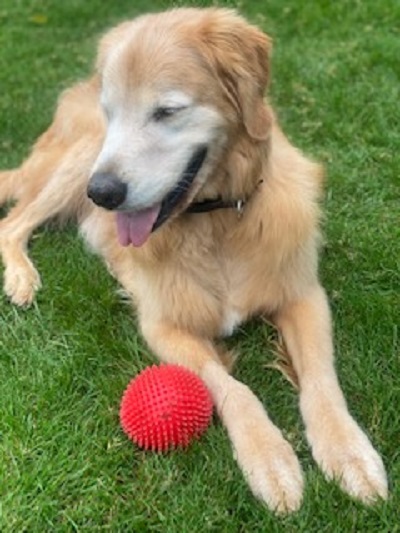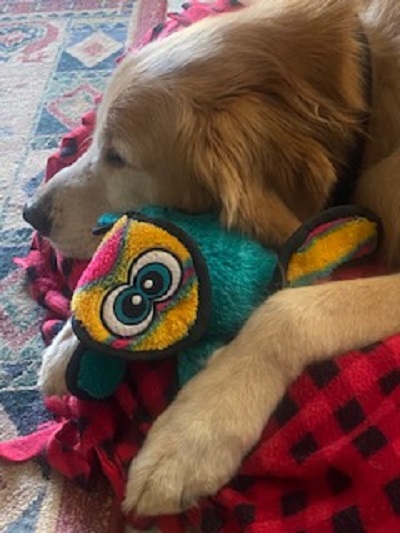 Foster Photos 6-1-2021: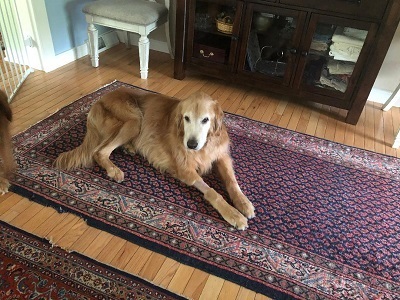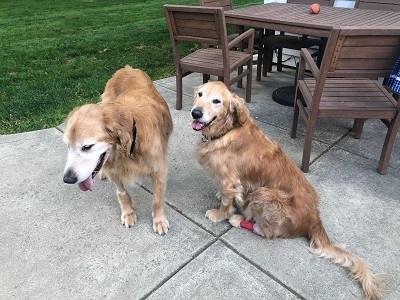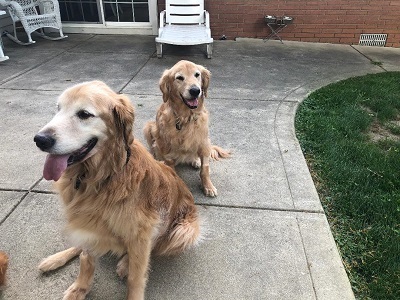 Intake Photos: