On Hold! New Update & New Photo!
Gender:
Male
Age:
3 years old
My Special Sponsors:
Diane Koscelnik

Needs to have a fenced environment and would benefit from obedience training.

George is a new intake. Our vet partner said he's high energy! This Golden boy has not one, but two, torn ACL's. His first surgery is this week and his foster will keep him quiet while he recovers. Then he'll have a second surgery, and rest and recoup again. It's going to be a journey for George but he's getting excellent care. We're confident he'll return to his exuberant self! Thanks to our foster who is so helpful with George.
---
Foster Update: 10/11/21
Hi! George here…I wanted to give you an update on how I am doing. My first TTA (Tibial Tuberosity Advancement) surgery was performed on 9-2-21…Boy-O-Boy, did that hurt!! I am feeling much better after a few weeks of loving & people paying attention to me all the time. I love being with my foster family & they are taking such great care of me. My foster sibling, Ally is the sweetest thing. She will lay by my crate when I get my dinner (I think she thinks I am going to share my food)…I am a Golden, SO NO WAY! I have to be on crate rest for the next 8 weeks & it is a good thing that I like my crate. I still have to take my pain meds & some meds to help me relax a little bit. I am really enjoying all the love & care that I am getting since I came into GRIN. I will be getting my x-rays in about 9 weeks & pray all goes well. I will be giving you an update at that time. Thank you GRIN for taking me into your care!! George
-----------------------------------------------------------------------------------------------------------------------------------------------------------------------------------------
Foster Photo 12-2-2021: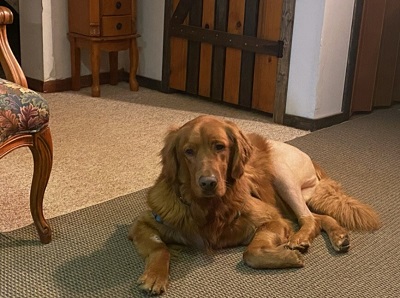 Foster Photo 11-18-2021: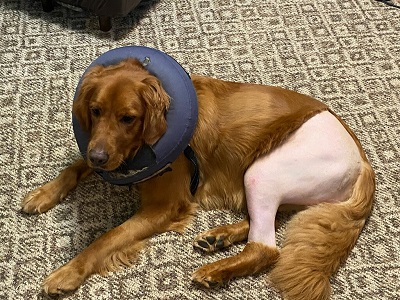 Foster Photos 10-7-2021: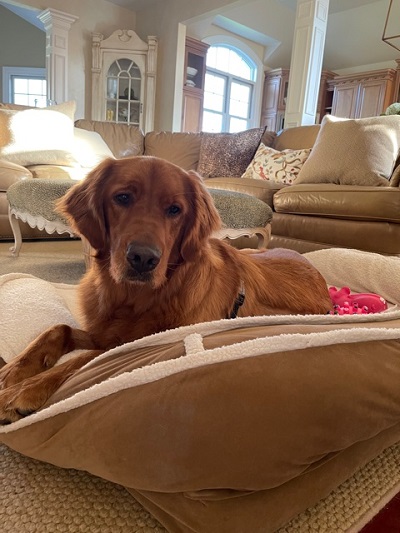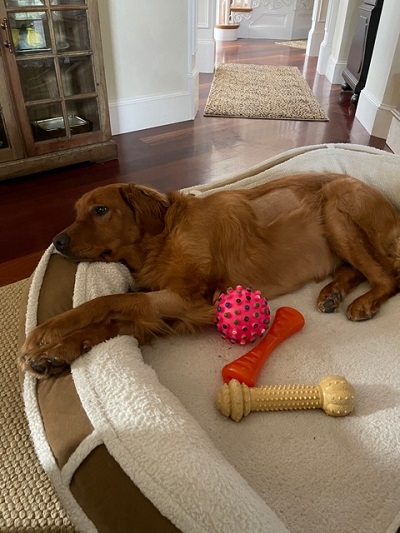 Foster Photo: