Adoption pending!
Gender:
Female
Age:
10 months
My Special Sponsors:
Kristen and Rob Sutliff, in honor of GRIN rescue Molson (aka Reese)
Carlene Williams, to honor a dear friend for her birthday
---

Needs to have a fenced environment and would benefit from obedience training.

This super cutie is a tiny one. She's a breeder relinquishment – she is leaking urine. Our vet partner is running tests to insure there's not an ectopic ureter. In the meantime, diapers and antibiotics will be utilized until all test results are in.
---
Foster Update: 10/17/22
Me again..roughly two weeks ago I went through a procedure at OSU to help with my leaking, plus I have medicine that seems to be helping too. That being said I have been released by the doctors & am now adoptable, so I am looking for my forever family home! I just know they are out there with a friend or two to play with. I am crate trained, potty trained, know a few obedience cues, love other dogs, & people. I will need some formal training classes...I sometimes like to do what I want...what girl doesn't?! Leash walking is a work in progress, I know with patience I will get it. My foster mom tells me all the time how smart & pretty I am. I know that I will be a great addition to a family. Thank you GRIN for all your help!
_______________________________________________________________________________________________________________
Foster Update: 9/2/22
Hi Mariah here with an update. After finding out that I had a UTI that was resistant to normal antibiotics back in May (and therefore needed shots four times a day for several weeks) I am now UTI FREE!! I was scheduled for a second round of laser ablation to hopefully correct the bilateral ectopic ureters at the end of August, but unfortunately it was canceled due to the sterilization machine at OSU breaking down. Hopefully, the surgery can be rescheduled in a few weeks. My foster mom says I am leaking less than before, but I still need to take a daily dose of Proin which helps with the leaking.
I enjoy playing with my foster sister, Harper, although I am famous for taking my foster sister's toys right from under her, but she and I love to rumpus. I like playing/chewing on sticks, soccer balls, and chasing after Frisbees. I am known destroyer of all stuffed toys. Walking on a leash is a work in progress as I like to pull. My foster mom has been giving me treats on walks when I am not pulling her. I know sit, come, shake, down (lay down) cues and am working on stay.
I hope to have the surgery I need soon and that it's successful, so I can find my furever home!
_______________________________________________________________________________________________________________
Foster Update: 5/23/22
Hi! Mariah here again!
I have been very busy since my last update. I went to OSU back in April to see the wonderful dogtors to find out why I cannot control my pee pee. Well guess what, they said that I have what is called bilateral ectopic ureters. This is a congenital malformation (present since birth). What this all means is that the tubes (ureters) open either in abnormal locations in the bladder or farther down into the urethra. These are all some big medical words, but basically my tubes were not connected in the correct places & I leak pee pee. Guess what?? While I was there the wonderful dogtors were able to perform what is called a "laser ablation" to correct the positions of my ureters so that I may no longer leak pee pee.. YAY! No more doggy diapers!! We will not know if it works right away, but with some time we will see.
Since my procedure, I have had a bit of a setback by getting a urinary tract infection that is resistant to the normal antibiotics. So now my foster has to poke me with a needle 4 times a day to help with this type of infection, plus I have to go back & do more blood work after I am done. I really do not like needles, but who does? The dogtors say that this may be causing my leaking now & once it is cleared up then I go back to potty training & no diapers. I have a great team of dogtors on my side to help me. Once this infection is cleared up, I am hopeful that I will be back to a normal fun-loving, busy 5 month old puppy!
Please stay tuned for another update soon!!
_______________________________________________________________________________________________________________
Foster Update: 3/10/22
Hi! My name Mariah and I moved into foster care in February and have been living with them for almost a month. I have a foster sister named Harper (who was adopted last year from GRIN) who I love to play and cuddle with. Harper is very gentle with me. We have rumpus time nightly. My foster mom says I have so much energy! I wear a diaper because I leak urine. They say I may have an ectopic ureter which will require surgery to address. Ectopic ureter is a condition in which the ureter does not connect properly to the bladder which allows urine to drain from the kidneys on a near constant basis. GRIN is working hard to get me into their specialist as soon as they can get an appointment.
I LOVE to eat! I especially love peanut butter, spray cheese, doggie treats, and if Harper doesn't eat her food quickly enough, I will eat it for her before anyone catches me. Potty training is a work in progress, but I have learned to sit and come on cue and I am getting used to walking on a leash. I recently found that I can now reach the couch to jump onto it and take a nap. I am very social and have socialized with groups of people including children ages 4 – 10. Playing outside with Harper is my favorite pastime. My foster mom likes it too because it wears me out, so I take longer naps.
I recently visited the veterinarian and was updated on several vaccinations. I am strong and was told that I now weigh 16 lbs. Soon, I hope I will find out whether I am a good fit for a successful surgery so I will no longer need to wear diapers. Hopefully, my next post will be that I have been adopted by some loving hoomans of my own, who want a puppy with lots of energy and has a great personality!
______________________________________________________________________________________________________________
Foster Photos 10-15-2022: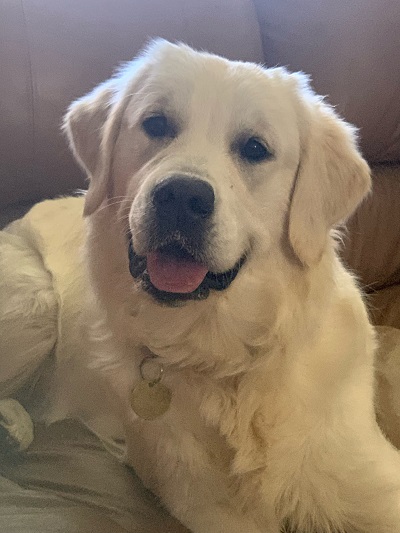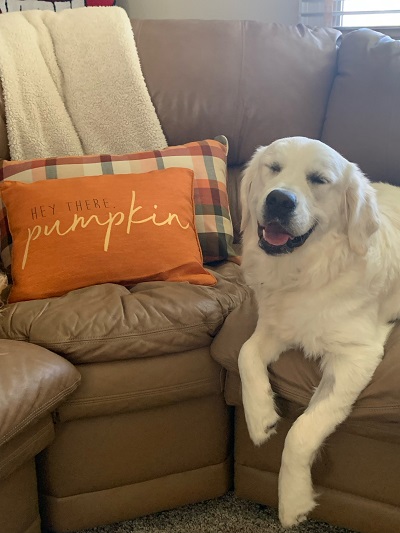 Foster Photos 9-2-2022: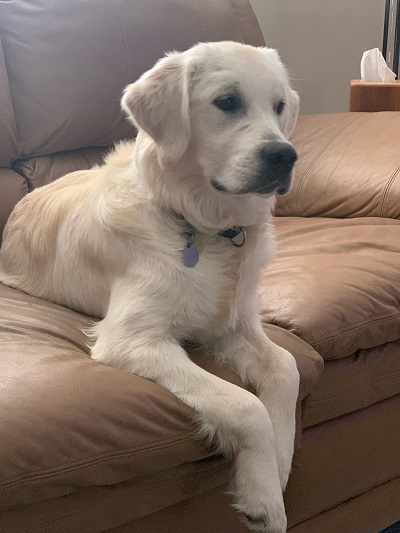 Foster Photo 6-16-2022: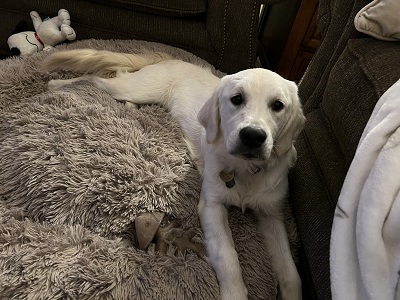 Foster Photos 5-23-2022: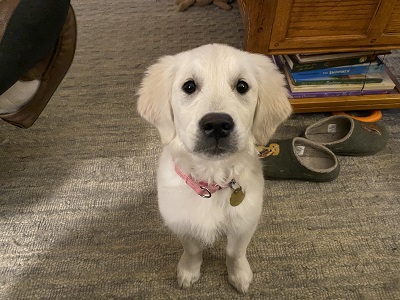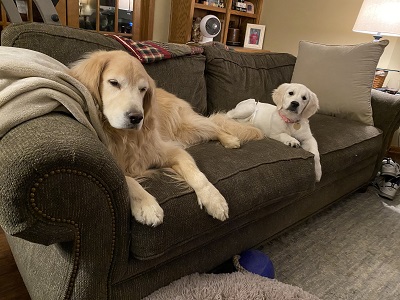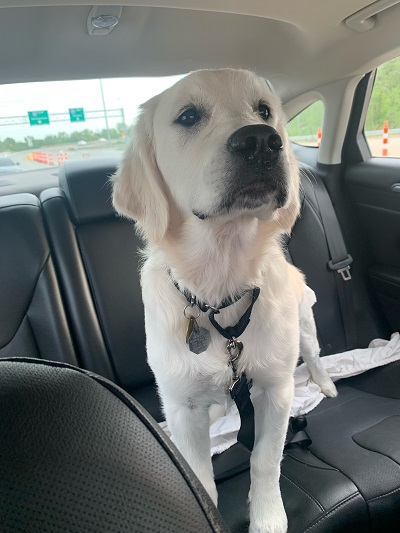 Foster Photos 3-9-2022: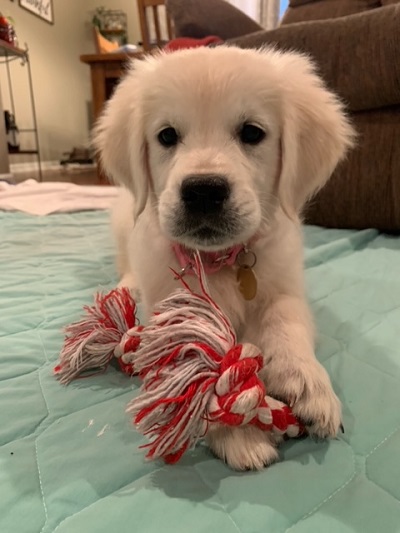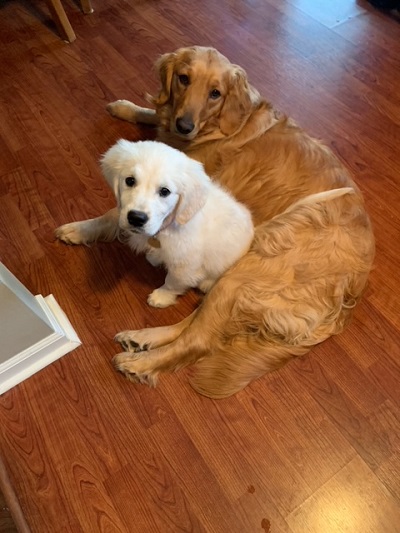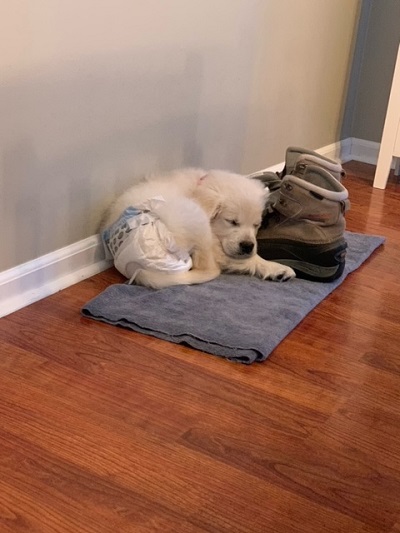 Foster Photos 2-12-2022: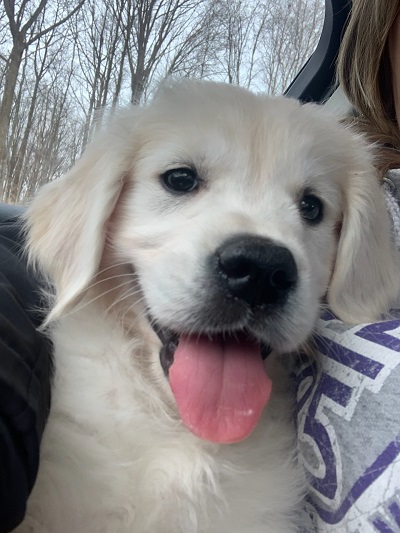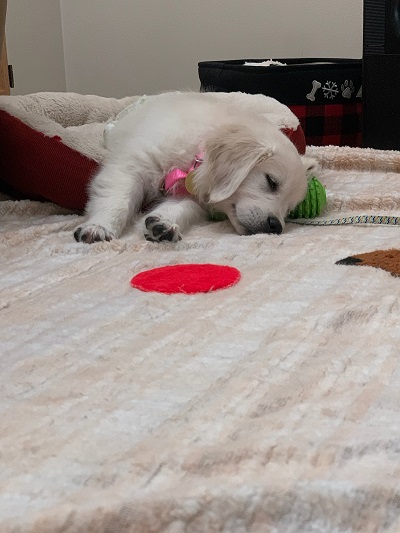 Intake Photo: