Available for Adoption! New Update & New Photo!
Gender:
Female
Age:
1 year old
My Special Sponsors:
Available for sponsorship!
---

Needs to have a fenced environment and would benefit from obedience training.

No Dogs

No Cats

Cutest puppy! Clover's mom is a purebred Golden, we're not sure what breed the dad is. Sure there's plenty of work and training, but all pups need this.
---
Foster Update: 4/11/23
This 1.5-year-old girl has spent way too much time in foster and she is more than ready for her forever home! So why hasn't she been adopted yet? Clover needs to be the only animal in the home and it can be tough to find that match. She is an energetic, playful, loving girl. She is an excellent cuddle buddy. A traditional fence is required as well as positive reward obedience classes.
_______________________________________________________________________________________________________________
Foster Update: 1/3/23
Clover is a very sweet, high energy pup who would do best in an active household. She currently walks with his foster mom 3 times a day and foster mom reports she has lost 12 pounds on the Clover weight loss program! Clover loves to play ball. She will catch the ball in the air and run in a fenced yard. She is working diligently on walking nicely on a leash when she sees other dogs so she can walk by without pulling and reacting. Clover is house trained and sleeps all night in her crate. She loves belly rubs, attention from people, and thinks she is a lap dog.
_______________________________________________________________________________________________________________
Foster Update: 8/30/22
Happy girl Clover has been with foster mom now for five weeks. She has proven to be well behaved in the house. Although she is crate trained, she has been left alone in the house for up to five hours now without getting into mischief. She naps and waits patiently for foster mom's return and is overjoyed to see her when she returns. Clover has learned not to jump up on foster mom in greeting. Instead she wiggles on her belly, happily. She is still trying to learn not to jump on new people when greeting them as she gets very excited and happy when seeing new people. Clover loves some daily play time, tugging on her rope toy or fetching her rubber ball over and over. She loves to catch the ball in mid- air and is very good at it. Sometimes she gets the zoomies! She loves small stuffed toys as well and tends to unstuff them and play with the pieces.
Clover listens well. She is going to GRIN's trainer for weekly group classes. Clover still tends to get too excited when she sees other dogs she does not know, so her foster mom keeps Clover from meeting them face to face. Clover will calm down after her initial response after some time. Training treats are used on all walks and Clover is improving with her listening response when she gets excited from distractions.
_______________________________________________________________________________________________________________
Foster Update: 8/1/22
Clover has been with this foster mom for a week now. She such a happy puppy! She loves life, is curious about everything, and wants to please. She has a shiny black coat which does not seem to shed much. She is 8.5 months old and has learned sit, down, give paw, stay, and go to your crate. She is still learning to not jump on foster mom when she is excited. Clover is mostly house trained but her foster mom has found she does best when taken outside frequently. Clover is food motivated and listens very well if a treat is anticipated. She loves her walks and walks fairly well with an Easy Walker harness. Clover seems to love people but they need to approach her quietly or she can be uncertain and bark. She does have quite a bark when she gets excited! Seeing other dogs gets her excited so foster mom makes Clover keep her distance from them. Clover would do best as the only dog in the home. She has had no exposure to children or cats so far. She seems ok with kids playing and running in the playground where she goes for her walks, but, her excitement at seeing people might be too much for a small child at this time.
---
Foster Photos 3-29-2023: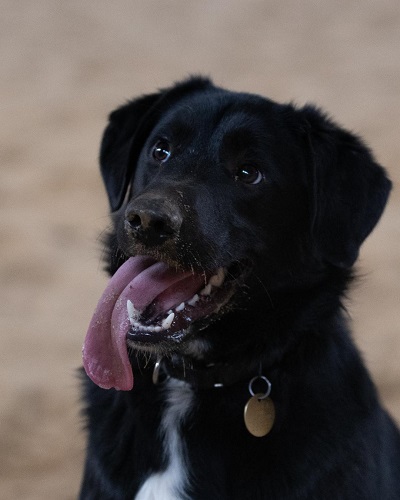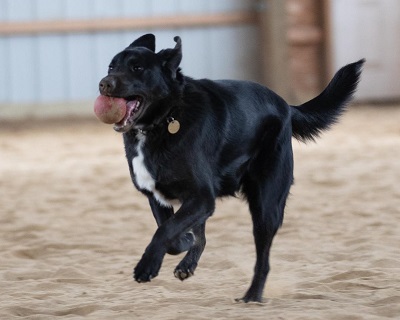 Foster Photo 3-23-2023: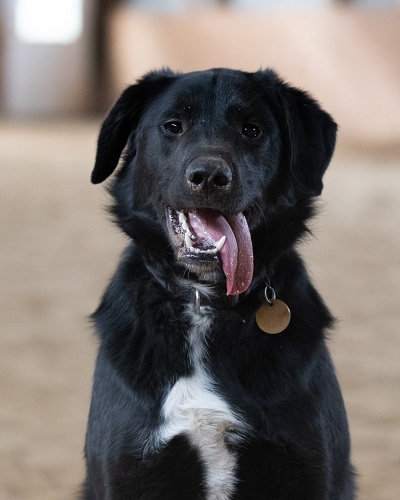 Foster Photo 2-23-2023: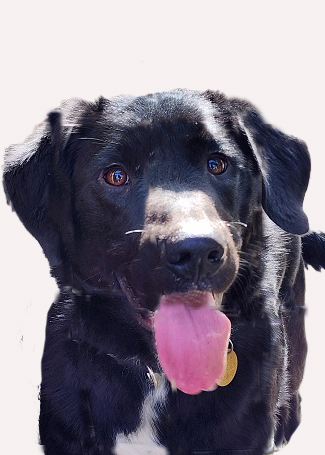 Foster Photo 10-7-2022: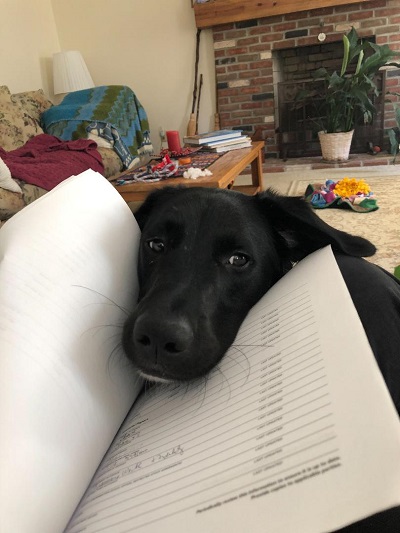 Foster Photos 8-31-2022: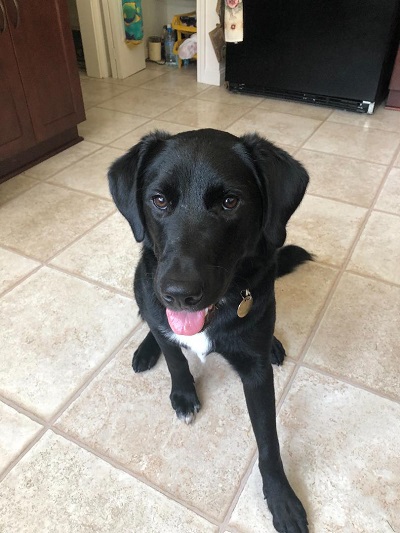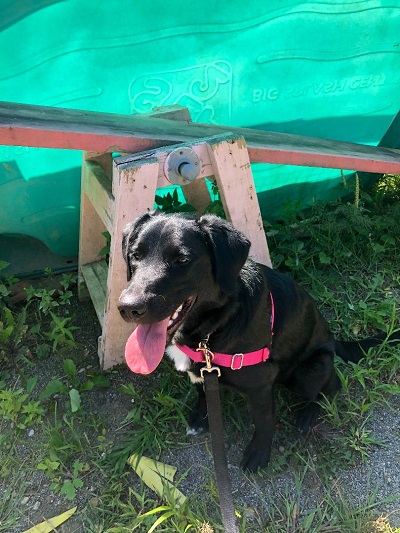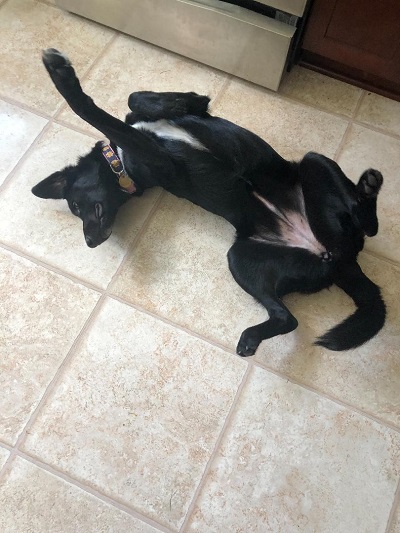 Foster Photos 8-2-2022: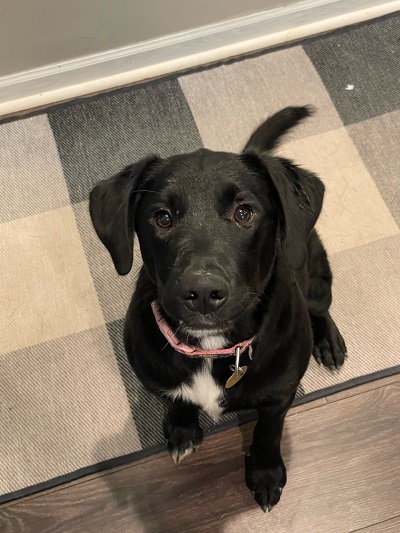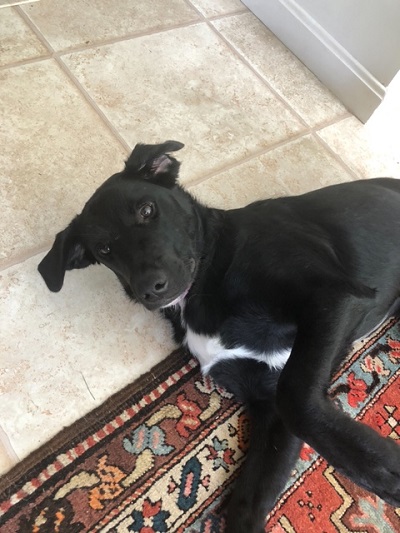 New Photo 4-1-2022: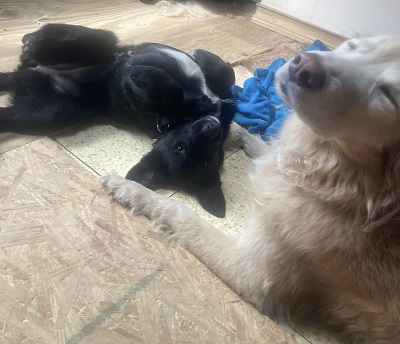 Intake Photo: