Available for adoption- Update & New Photo!
Gender:
Female
Age:
6 years old
My Special Sponsors:
Available for sponsorship!
---

Needs to have a fenced environment and would benefit from obedience training.

Goldie is a breeder relinquishment. This poor girl is scared and will need some extra love and patience. We're looking for a special foster with a quiet, gentle home to coax this Golden to life.
---
Update: 4/24/23
Goldie was pretty scared and shut down when she arrived but is ever so gradually coming out of her shell. She still startles easily and takes time to warm up to new people. Because she is easily startled, she would do better in a home with older or no children.
Goldie has recently started playing and running around playfully with other dogs. Goldie will need another dog in her new home to help her gain confidence and show her the doggie ropes. A fence is a requirement for Goldie to keep her safe as her background makes her a flight risk. This gentle girl walks nicely on a leash but is nervous in new situations and settings. She pays absolutely no attention to the cats.
Goldie will require a patient home who is willing to help her overcome the horrors of her past.
Watching a dog who has been rescued from a commercial breeding facility blossom is such a special experience. It is so rewarding to witness their confidence grow and see her eyes open up to a whole new world.
_______________________________________________________________________________________________________________
Update: 1/23/23
Goldie has been in the care of GRIN's positive trainer for several months where she has been decompressing and slowly adjusting to life outside of the commercial breeding facility from which she came. She is experiencing new sights and sounds and meeting people for the first time. People who have been kind and patient, it is a whole new world for this former breeding mom. For the first few months she remained shut down but in just the past month or so we have begun to see huge strides in Goldie's efforts to overcome her fears.
Initially downcast and refusing to make eye contact, Goldie now actually picks her head up high and takes in the sights around her. She is exploring her area and for the first time we are seeing her true personality emerge. She is a good girl for baths, walks nice on a leash, and occasionally enjoys shredding a stuffed toy!
This girl is ready for the next chapter in her healing and we hope to be moving her to a foster home soon.
_____________________________________________________________________________________________________________
Update: 7/15/22
Goldie is working hard to overcome her past. Currently, she is in the care of GRIN's training partner where she is decompressing and learning how to trust. Goldie's case is heartbreaking, still frightened by new people, loud noises or sudden movements. However we are starting to see some progress. She is a work in progress and GRIN is committed to helping her discover a world where she is loved and valued.
---
New Photo 4-29-2023: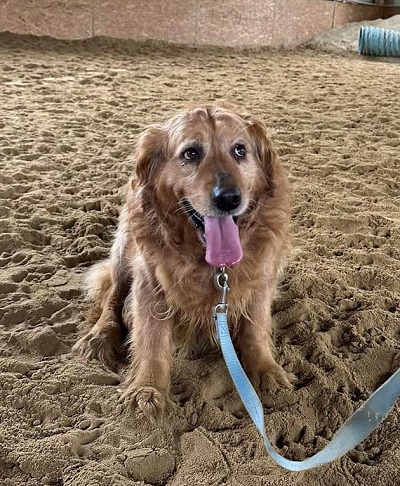 New Photo 4-13-2023: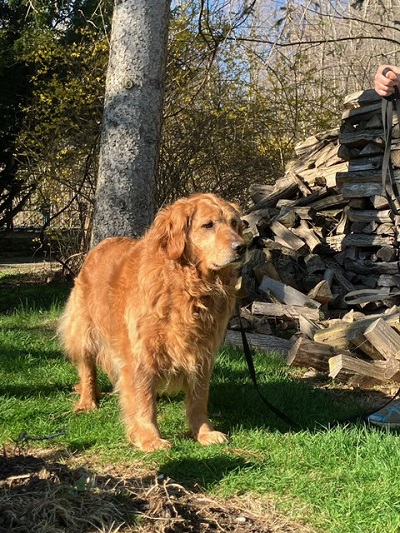 New Photo 2-23-2023: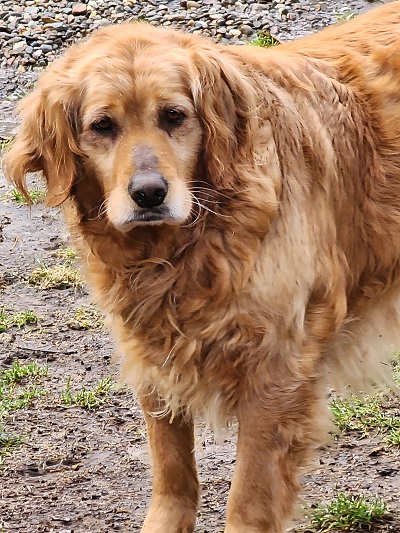 New Photo 7-4-2022: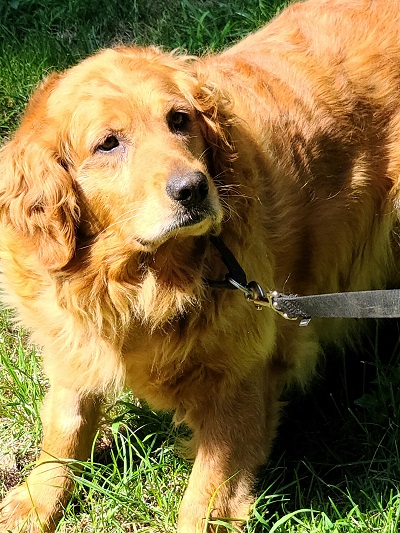 New Photo 6-10-2022: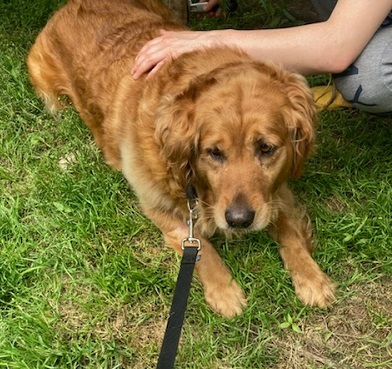 Intake Photo: