Adoption pending!
Gender:
Male
Age:
4 years old
My Special Sponsors:
Available for sponsorship!
---

Needs to have a fenced environment and would benefit from obedience training.

Duke is a breeder relinquishment. We were told he is good with children and other dogs, unsure about cats. It has been noted that he has two pretty significant hot spots being treated by our vet partner. He will need TLC and continued care. Meanwhile, we will search for the perfect match for Duke!
---
Foster Update: 6/13/22
Duke has had great progress after his first three weeks in a foster home. His loving personality and intelligence are shining through as he has become much more comfortable in the house and with new routines. He pants much less and settles/relaxes well near his foster family. He is doing well with sit/stay/down training and is progressing on crate training. He pulls less on leash as he is more familiar/less reactive to smells/scurrying animals and responds better to the "stop" cue. He is friendly towards other dogs and has adjusted well to our cat. Duke would be love another dog in the house to play with and learn from. He loves being brushed and has begun to master his daily treat puzzle. His hot spots and dermatitis are resolving well. He's a great Golden who has so much love to give to his forever family!
_______________________________________________________________________________________________________________
Foster Update: 5/27/22
Duke is a loving energetic four-year-old Golden. Being in a house appears to be new to Duke & he is busy exploring all the new things. Duke is a loving dog, greeting his foster family and new people and dogs with a friendly wag. Duke does not settle easily and pants a lot when he is stressed, but this behavior is improving as he becomes more comfortable in a home setting. He's working on crate training, a bit of a bull in a china shop, not aware of his own strength, but has not shown any aggressiveness. He is house trained and walks well on a leash, but is a strong puller, especially when he sees squirrels and rabbits hopping by. Duke has two large hot spots and some dermatitis which he does not lick or bite at anymore and appear to be healing well. Duke is a loving diamond in the "ruff" who will make a great family member with lots of love and obedience training.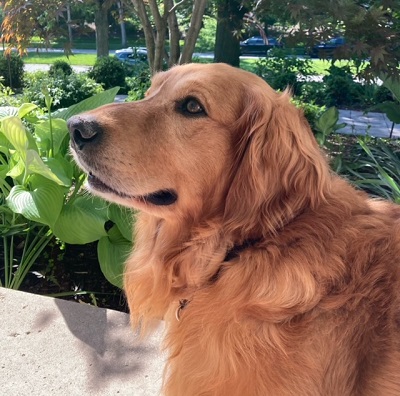 Foster Photo 5-26-2022: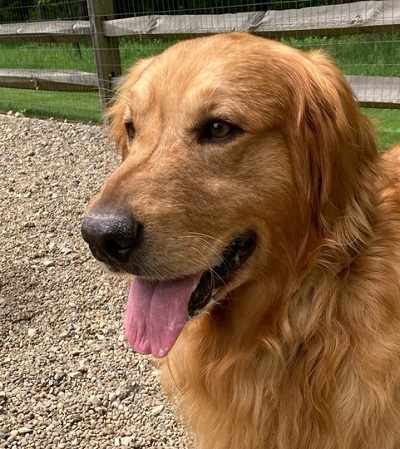 Foster Photo 5-24-2022: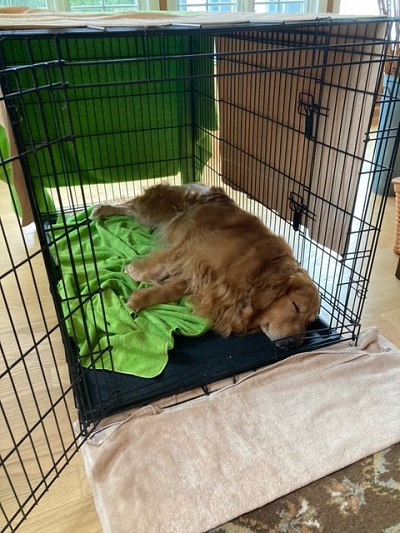 Intake Photo: