Available for adoption- Update & New Photos!
Gender:
Male
Age:
1.5 years old
My Special Sponsors:
Available for sponsorship!
---

Needs to have a fenced environment and would benefit from obedience training.

Our latest boy Jack, is timid. He came from a shelter from a mill rescue. He's been tagged as a Goldendoodle but looks more like a Golden - head and tail - with shorter legs. He has never been on a leash so a slip lead and martingale are a must, otherwise he may bolt. He much prefers to be carried and be close to you. He is a smaller guy - great if someone is looking for a snuggly lap dog. He's adorable!
---
Foster Update-11/14/22
Little Jack is work in progress. Though still timid, he has come a long way from the terrified little dog who arrived in foster care six months ago. He is still very cautious around unfamiliar people and things, but does come up for a quick sniff and even a lick or two before darting back to the security of his crate. This little Cracker Jack is a lively walker on a long leash several times around the back yard, always the same route, always along the fence line and always several yards away from his foster mom. He does his business, then seeks the security of house, and of course, a treat for doing "his duty" and being brave. But while Jumping Jack likes his treats, he LOVES his breakfast and dinner routine! Jack be Nimble comically leaps sideways in and out of his crate until his bowl is placed in front of him and when he's finished, he seeks any remnants left in the resident dogs' bowls!
_____________________________________________________________________________________________________________
Foster Update: 9/5/22
While very much a work in progress, Jack continues to amaze his foster mom with his slow but steady progress. He knows his name, but is still very timid and comes on his own terms, though more frequently than when he first arrived nearly four months ago. He has become very comfortable in his surroundings and has adapted well to a routine. Jack knows when it's his turn to go outside after the resident dogs, and just recently discovered he can go down the steps on his own! Sometimes he'll attempt to bolt when his feet touch the patio and other times he just heads excitedly for the back yard. Either way, he needs to be on a leash outside as any sudden, unexpected noise makes him run like a rabbit.
Jack has also discovered his voice and uses it when there is a break in routine, even for a moment. He knows when it's time to eat and barks if it takes what he considers a little too much time putting food in his bowl! He knows when it's front porch time and now runs to the door. He didn't like the traffic at first, but has gotten used to it, as long as he can watch it from the comfort of a lap! Going for walks along the street is not a good idea, so he gets his exercise walking the perimeter of the back yard (still with the leash taut, however), or circling his foster mom round and round as she walks towards the house!
_______________________________________________________________________________________________________________
Foster Update: 7/14/22
If you're looking for a pint-sized, personality-packed pup, little Jack is your boy. He is now in his seventh week of foster care and is beginning to come into his own! He responds when his name is called: his ears perk up, his eyes light up and he knows he's wanted, though he still will not come to his foster mom. He does come into the same room with her on his own now and noses her leg when he thinks she's not paying attention. She can pick him up, hold him in her lap, and snuggle with him on the couch, but the minute his feet touch the ground, the leash (which he now associates with going outside and being with her) goes taught as he tries to get away.
Jack is always rewarded for positive behavior. He is still hand-shy, but has recently been taking treats out of his foster mom's hand. He is a mill dog and must have been through quite an ordeal to be so afraid of things. He has made progress as the weeks have gone by, but he has a ways to go yet. If you're willing to work at it, in time this little guy will steal your heart!
______________________________________________________________________________________________________________
Foster Update: 6/9/22
Meet Jack…..Anyone looking for a "pocket" size golden? Lap Dog? Jack is an absolutely adorable little Golden mix who is ever so bravely making the transition from puppy mill to foster life in my household. In the eleven days since his arrival he has gone from standing fearfully and immobile in my backyard to walking around sniffing all the delightful smells around the perimeter. He needs to be on a double leash however, as he is extremely skittish and attempts to run like a rabbit at ANY little, sudden sound. The first few days he would leave his crate only when I went in to get him. He has become more accustomed to the household sounds and comes slowly to the door when he sees the leashes because he knows he's going outside to roam and go to the bathroom. Jack hasn't figured out how to go down the steps, but he's getting bolder and going to the edge. He does, however, run up the steps to get back into the house!
Jack gets along with the resident Goldens and recently came into the kitchen full of people and another dog as small as he is. He even let one of the guests pick him up and put him in his lap. He hasn't gone beyond the mudroom and the kitchen yet, but he is going to the doorway of the living room and pacing back and forth like he's trying to get up the nerve to go farther! Jack doesn't yet come on his own, but he doesn't pull away from me as much when I go to get him. He is not as hand-shy as he was initially, but he is still unsure when I go to pet him. Jack needs to feel safe and loved. He's a work in progress and needs a lot of encouragement, praise, and patience. He'll get there in time!
---
Foster Photos 11-7-2022: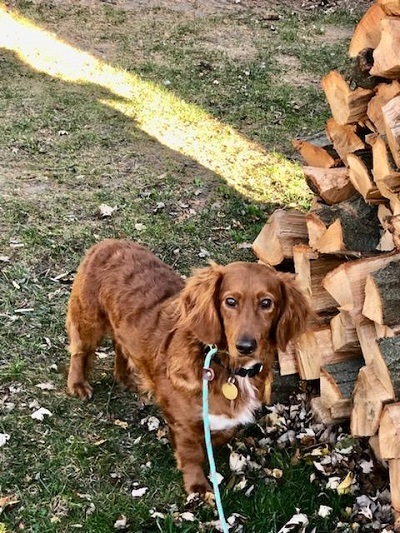 Foster Photos 8-26-2022: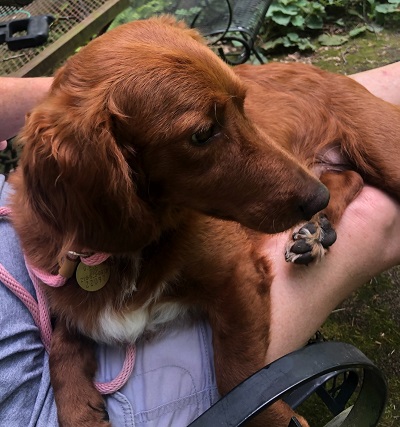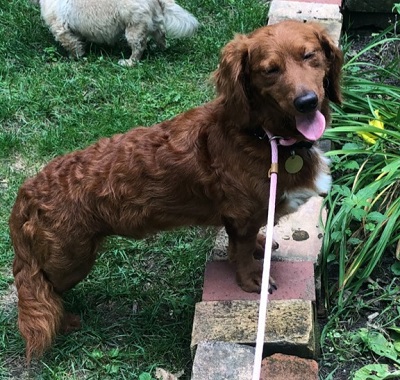 Foster Photos 6-8-2022: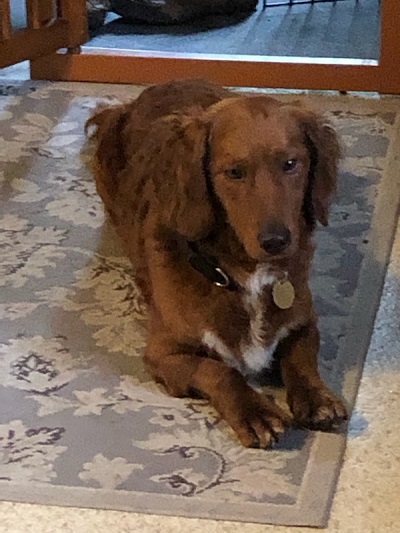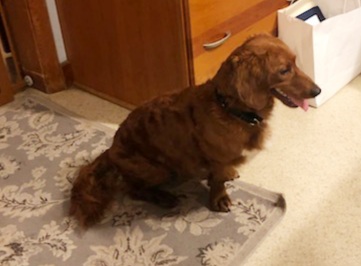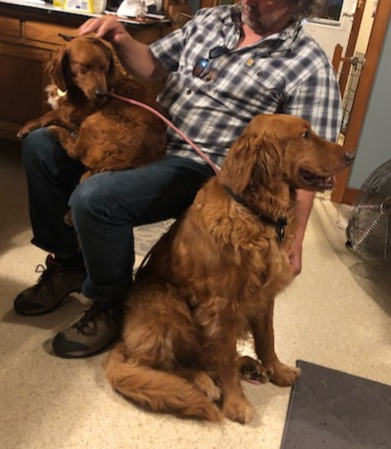 Foster Photo 5-27-2022: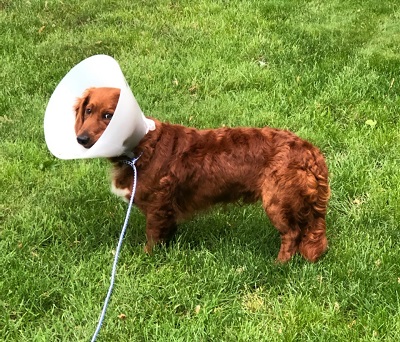 Intake Photo: