Available for adoption- Update & New Photo!
Gender:
Male
Age:
1.5 years old
My Special Sponsors:
Available for sponsorship!
---

Needs to have a fenced environment and would benefit from obedience training.

Our latest boy Jack, is timid. He came from a shelter from a mill rescue. He's been tagged as a Goldendoodle but looks more like a Golden - head and tail - with shorter legs. He has never been on a leash so a slip lead and martingale are a must, otherwise he may bolt. He much prefers to be carried and be close to you. He is a smaller guy - great if someone is looking for a snuggly lap dog. He's adorable!
---
Foster Update: 6/9/22
Meet Jack…..Anyone looking for a "pocket" size golden? Lap Dog? Jack is an absolutely adorable little Golden mix who is ever so bravely making the transition from puppy mill to foster life in my household. In the eleven days since his arrival he has gone from standing fearfully and immobile in my backyard to walking around sniffing all the delightful smells around the perimeter. He needs to be on a double leash however, as he is extremely skittish and attempts to run like a rabbit at ANY little, sudden sound. The first few days he would leave his crate only when I went in to get him. He has become more accustomed to the household sounds and comes slowly to the door when he sees the leashes because he knows he's going outside to roam and go to the bathroom. Jack hasn't figured out how to go down the steps, but he's getting bolder and going to the edge. He does, however, run up the steps to get back into the house!
Jack gets along with the resident Goldens and recently came into the kitchen full of people and another dog as small as he is. He even let one of the guests pick him up and put him in his lap. He hasn't gone beyond the mudroom and the kitchen yet, but he is going to the doorway of the living room and pacing back and forth like he's trying to get up the nerve to go farther! Jack doesn't yet come on his own, but he doesn't pull away from me as much when I go to get him. He is not as hand-shy as he was initially, but he is still unsure when I go to pet him. Jack needs to feel safe and loved. He's a work in progress and needs a lot of encouragement, praise, and patience. He'll get there in time!
Foster Photos 6-8-2022: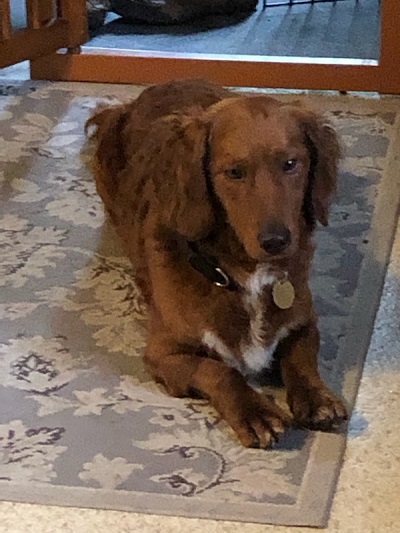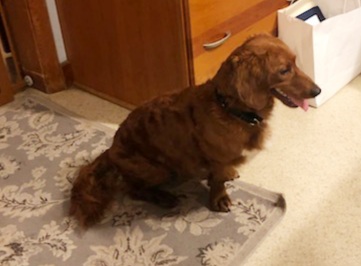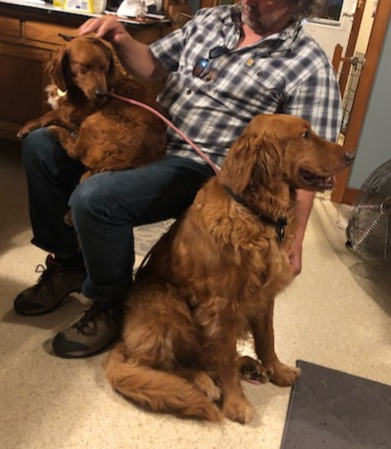 Foster Photo 5-27-2022: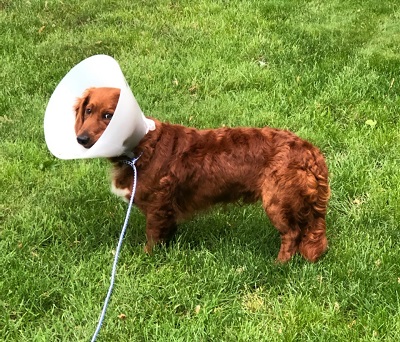 Intake Photo: