Adoption pending!
Gender:
Female
Age:
6 years old
My Special Sponsors:
Available for sponsorship!
---

Needs to have a fenced environment and would benefit from obedience training.

Baelee is a relinquishment. There was a change in the home arrangements and the owner is hopeful we can find Baelee a good home. She is very food motivated which unfortunately has caused her to become a bit overweight. Her new owner will need to be committed to a healthy diet and exercise routine. She is as sweet as they come!
---
Foster Update: 7/11/22
Baelee is a sweet and loving companion. She listens when you speak to her, knows basic cues, and will get comfortable near you whether you are working or just resting. She is house trained and even gives you silent cues when she needs to go out. It's a dream to walk with her on a leash or with her harness. She enjoys going on walks and is also willing to sit with you if you want to sit on a park bench for a while. We have been taking multiple smaller walks a day to help build her stamina as she continues to work on her weight loss. Baelee loves to ride in the car. I have a little set of steps to help her up into the car until she can leap up herself… but she has no problem getting out of the car! She is comfortable in her crate and waits patiently while you leave to run some errands. She has interacted with a cat, a rather scaredy-cat type, but he has warmed up to her because she has no problem with him. She is such a sweet girl who loves both men and women equally, she is very easy going and loves to be around her human. Baelee is looking for a forever family that is willing to continue working with her on her weight loss as she will feel so much better once those extra pounds are off! If you are looking for your typical sweet, calm golden retriever she is your girl!
Foster Photos 7-8-2022: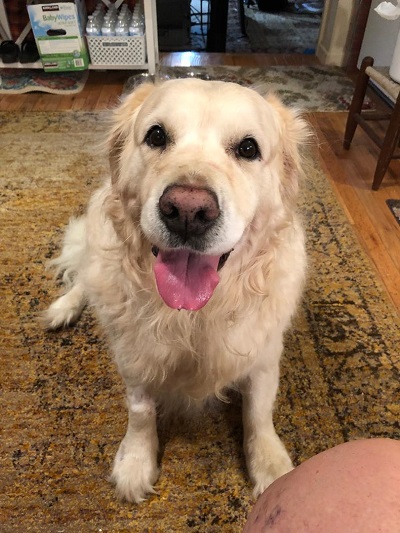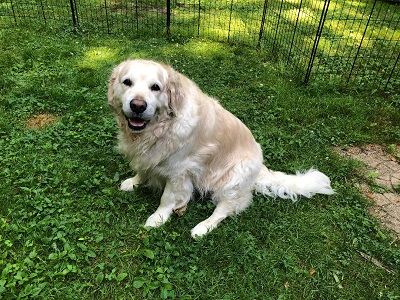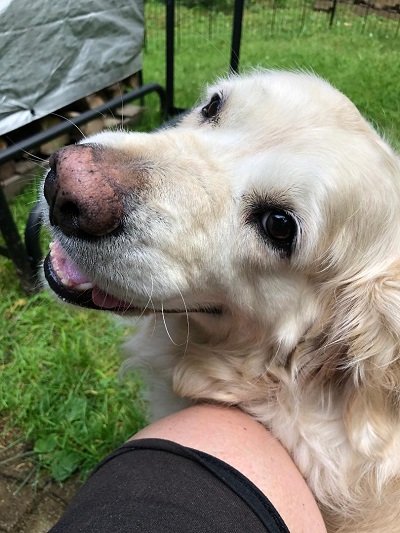 Intake Photo: