On Hold! New Update and Photo!
Gender:
Female
Age:
6 years old
My Special Sponsors:
Available for sponsorship!
---

Needs to have a fenced environment and would benefit from obedience training.

Sally is a retired breeding girl. She is social and friendly, but will need patience and work on the leash. Once she understands and enjoys walks, they may become the favorite part of the day! She's been vetted, had a dental, and will be heading to her foster home.
---
Foster Update: 9/19/22
Sally continues to slowly adjust to the pet life in her foster home. Many things are still difficult for her; she still prefers to be outside and likes to eat outside away from anyone watching her. On rare occasions she will take treats from her foster mom's hand, but prefers to take them off the ground. Sounds from normal household appliances such as; the television and vacuum cleaner are still scary, but she has learned about human beds and likes to sleep in bed at night with her foster mom. She ignores the cats in her foster home, but we are uncertain how she will do with other dogs at this time. Occasionally Sally will relax with a belly rub and ear scratches as she begins to learn that people can be sources of good things too.
_______________________________________________________________________________________________________________
Foster Update: 8/2/22
Sally is adjusting to her foster home a little more each day. She has not had any accidents and has been gated in a small area at night. At this time she is still shy around people and prefers to eat after her foster leaves her food for her and walks away. She is timid when approached and will usually lay down and gently wag her tail. She has not yet approached her foster family for attention on her own.
She has met the resident cat and has not chased her, however will give chase to the deer in her new backyard. So far she has not barked in her foster home, but she will start pacing when a car pulls in the driveway. Leash walking is a work in progress. If you are going where she wants to go she does fine, otherwise she just lays down.
Sally is learning to trust in a loving environment and is making steady progress.
---
Foster Photo 9-19-2022: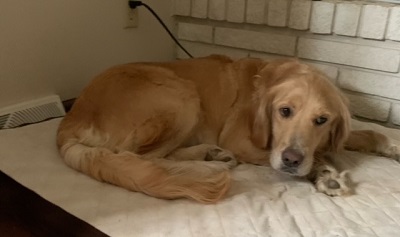 Intake Photo: