Available for adoption - Update, New Photos & YouTube Video!
Gender:
Female
Age:
6 years old
My Special Sponsors:
Available for sponsorship!
---

Needs to have a fenced environment and would benefit from obedience training.

Daisy is a breeder relinquishment. She's lived an outdoor life, and it's time for this gal to come inside and enjoy all the comforts of a home. She is social and friendly, good with kids and other dogs. She is currently in foster care and being doted on awaiting her forever home.
---
Foster Update: 8/30/23
Daisy's journey to overcome her fears, continues to show improvement. She's very trusting of her foster parents and loves running to the back gate for the neighbors to pet her. She has recovered nicely from July 's fireworks, but loud noises still continue to startle her, such as a neighbor with a very loud car, or a garbage truck with squealing and thumping noises.
Daisy used to continually run back-and-forth from her foster parent to the back door when she was outside, but recently that behavior has changed. She now likes to walk beside her foster mom while navigating the backyard.
There is now a 17-year-old boy living in the household and Daisy loves him. She had a two-year-old toddler visiting for a week and was just fine with that. Daisy eats well and has made significant progress on going out the back door on her own, rather than have to have a leash on in order to do so.
This sweet tail wagging young lady has so much love to give and needs a family to help her along the way. She loves being brushed the most and lets out a low throat groan, along with a silly smile, and closes her eyes while being brushed. She is very compliant with bathing and tries her best to please.
_____________________________________________________________________________________________________________
Foster Update: 7/14/23
Daisy had a pretty rough Fourth of July, as the fireworks and fire crackers sent her into panic mode. She tried to get herself into any small, hidden space available. The only relief she could get was when she laid beside me on the bed, cuddled with the TV volume up loud, music playing, and fans running. Calming chews seemed to have no effect, the fireworks were just too overwhelming for this poor girl. Prior to the holiday she was continuing to improve. She is finally trusting us enough that we can teach her new cues. She has learned 'sit'. She continues to love to lay in the stream, it is slightly elevated and gives her a good view of the entire backyard. She continues to explore outdoors on her own more, but still returns to the door. Unknown noises startle her, but she recovers quickly now. She can be bit standoffish with new people but after a few minutes, she makes friends with everyone she meets. She will bark when she hears anyone around outside. She becomes very excited over meal times and eats with her foster siblings. Daisy gets very happy when it is time to go for walkies. Noises along with the walking route can still startle her, but she no longer pulls so hard to get away, instead staying by her foster mom's side. The biggest hurdle she has overcome this summer so far is that she had three teenage guests in her home for six weeks and she loved them all, even crawling into bed with them at times!
_____________________________________________________________________________________________________________
Foster Update: 6/15/23
Daisy used to be so frightened of small children that she would pull on the leash in every direction to try to get away, often wrapping herself up around foster parents' legs. Now she will allow children to pet her when we're on her walk. With some gentle encouragement, two children in the neighborhood have been able to approach her and pet her in her backyard. She is still not sure of them, but definitely not so frightened.
If her entire pack is outside, at times she will willingly come out the door to join her family. She is becoming more and more active in the backyard, exploring new areas and trying to engage when the two resident dogs play. She is still not sure how to play but gets very excited and circles them, tearing up grass chunks and flinging them.
For the past two weeks she has had three teenagers living in her home and has adjusted amazingly to having them there. She has even gone so far as to crawl onto their bed, wanting to be petted. She has learned a few cues, such as 'wait' while everyone else goes in the door first, 'stay', when she's not allowed to come in the door behind her foster family, 'come', which she does immediately. She is totally enthralled with the fish in the pond in the backyard, standing and watching them for very long periods of time. The neighbors often bring their two goldens into our fenced in backyard, which means five golden retrievers running around all together! Daisy will run back to the back gate, waiting for the neighbor dogs to come over and play. One of them is a five-month-old puppy who tends to climb all over her. Daisy is very sweet and patient with the puppy.
_____________________________________________________________________________________________________________
Foster Update: 4/28/23
Daisy is continuing to make progress in her confidence. She still likes her human to be outside with her during the day, but is exploring her backyard more and more. The walks have been shortened to 1/4 mile due to the warmer weather bringing people out in their yards and children playing. We have begun giving her a calming chew called composure prior to her walks and it does help a bit. Daisy is a very loving girl who is quite content to be indoors with her foster parents and her pack. She loves to look out the sliding glass door and watch the activity of the neighbor behind us. She always barks to let us know someone is around. If Daisy is outdoors, and the neighbor behind us comes to the gate, she races to the back of the yard to the gate to greet them and be petted.
If one of her siblings is on the loveseat in the bedroom overnight, Daisy has gained the confidence to go to the other end of the house and sleep on the couch. Her house training is a complete success and she has the run of the house both overnight and when her foster parents go away. Her only destructive behavior is once in a while we will find a torn dryer sheet that fell on the floor or a random Kleenex she has found. When you call Daisy's name, she comes running immediately from wherever she is, so eager to hear what a good girl she is. Sweet Daisy absolutely thrives on being petted, groomed, and loved on. Her coat amazes us, continuing to fill out and so soft you just want to lose yourself in its luxurious thickness. Daisy had a bath this past week and was entirely cooperative. She is very patiently waiting for her furever home.
_______________________________________________________________________________________________________________
Foster Update: 3/13/23
Daisy is going outside willingly now with the resident dogs in the morning and evening for potty breaks. She does much better if her human goes outside with her at any other times during the day. A groomer came to the house and shaved her feet with clippers and used a grinder on her nails. She also shaved her belly and hygienic areas with absolutely no resistance. The only thing she would not accept was having her ears trimmed with the clippers. She will willingly await her turn to get treats and now will stay in place to eat her treat rather than running with it to another room to eat. She licks peanut butter off of your finger so very gently it is amazing.
Daisy is now walking a mile a day, weather permitting, and does an amazing job of heeling except when something really frightens her, ie: kids shooting basketballs, dogs barking at her, ATV's on the road, & then will pull to escape the area, although she does not seem to fear general traffic. Consoling words and petting calm her down pretty quickly. She is engaging more and more with the resident dogs outdoors, running with them, but still does not play actively.
This beautiful girl just wants to please and is overcoming her fears and actually becoming a dog. She has so much love to give and enjoys being brushed or just petted. She makes the most adorable little sound deep in her throat when you are petting her or about to give her a treat. She loves her spiky squeaky ball and will walk around with it in her mouth, eventually finding all of the balls and nylabones and hoarding them in her bed.
Her foster parents are so thrilled with her progress and wish for her a loving family who will open their hearts and home to this precious girl and continue her journey to dogginess!
_____________________________________________________________________________________________________________
Foster Update: 2/13/22
Daisy has had an amazing week of overcoming her fear of the leash. Daisy's foster family has been increasing the time she is staying outside, a little longer each time when she goes out to potty. She has been reluctant to go out the front door & walk down the driveway. Yesterday she almost walked normally on the leash with the two resident dogs and both foster parents. She has made it around the block four times this week, three of those times, pulling quite often and wanting to go back to the house, but the fourth time was a winner. She made it halfway around the block almost heeling, but when we turned that last corner, she knew where she was and started pulling to go back home. Every time she pulled ahead she was told "no no" and would stop and walk on the leash for a few moments before pulling again, each time responding to "no no". She has had two accidents this week, but both were because her foster family was not vigilant in getting her out on time. She's getting to the point where she looks at her foster daddy and gets a little excited, signaling she may have to go out. When he makes a move to get up if she stays there, she needs to go out but if she doesn't want to go out, she runs to the bedroom to her loveseat. Daisy definitely thrives on human attention, coming to stand beside you so you will pet her quite often. Daisy is a very sensitive girl and wants to please. Daisy's coat is coming in so beautifully with the aid of salmon oil. Her coat is so thick and luxuriously soft and all of her feathering has begun to grow back. She is going to be a real beauty and a very loyal companion.
______________________________________________________________________________________________________________
Foster Update: 1/3/23
Hi, my name is Daisy! I have been an outdoor dog all of my life and I have just discovered what being indoors is like and it is so, so wonderful! I still jump and bark at new strange noises indoors, like I just discovered the icemaker, noisy old thing! I am a very good watch dog. I have discovered the comfort of a nice, soft dog bed, and I really love to lay on the sofa. I am doing well at potty training, but I only like to go out when I really have to go potty. My foster daddy is trying to teach me that it's safe to walk beside him on a leash, but so far, I don't like it. I love to just stand beside my foster parents and let them pet me, I think I could stand there for hours. Right now I am living with three other dogs and two cats and we all get along famously. I eat my meals with the other dogs now. I am crate trained and only use the crate when my foster parents have to go away. I do not need the crate at night and I'm a very good girl. I am also a very good girl riding in the car. I got to stand on the floor of the van and look out the window when we went to the vet. I haven't quite figured out how to play with the other dogs, but I really want to and I get very excited when they play. I am learning so much here at my foster home, but I really hope you will consider giving me a forever home. I have so many things I want to experience yet and I would love to have a family of my own.
______________________________________________________________________________________________________________
Foster Update: 10/24/22
Daisy came into GRIN in August. This poor golden gal has only known life in a puppy mill and raising puppies. Daisy is a work in progress at this time. Her foster family is working with her on house training, walking on a leash, and crate training. She does well with the resident dogs and cats. She is responding to her name and is treat motivated. At a recent vet visit, it was discovered that she has low thyroid and has been put on an inexpensive medication that she takes daily. Her foster mom states that everyone that meets Daisy remarks how sweet she is. Though her crate is her safe spot, she is engaging more and more as time goes on.
_______________________________________________________________________________________________________________
Foster Update: 9/1/22
Daisy has been in her foster home for two weeks now. She still needs coaxing to come out of her crate but willingly goes outside through the back door and walks on a leash into the yard. Once outside, she does want to pull to go back into the house. She has only had one potty accident in her crate & has had some pumpkin added to her diet which is helping with her constipation. When someone recently knocked at the door she ran with the resident dogs to the door and stood up to look out the window, (then retreated back to her safe spot, her crate) as she is paying more attention to the resident dogs & following their lead. Daisy does not like cats & has shown some resource guarding. Daisy is a sweet girl who needs some time & patience to overcome her fears.
---
Foster Photo 8-30-2023: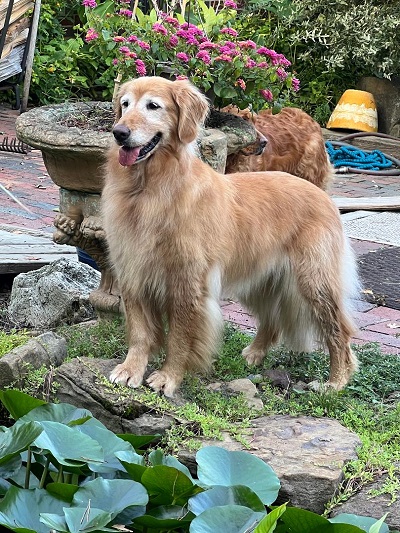 Foster Photo 6-15-2023: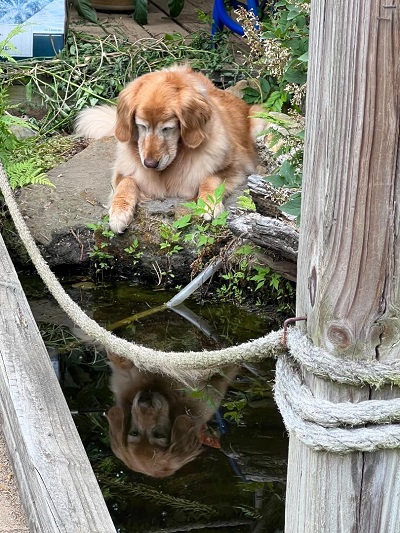 Foster Photos 3-12-2023: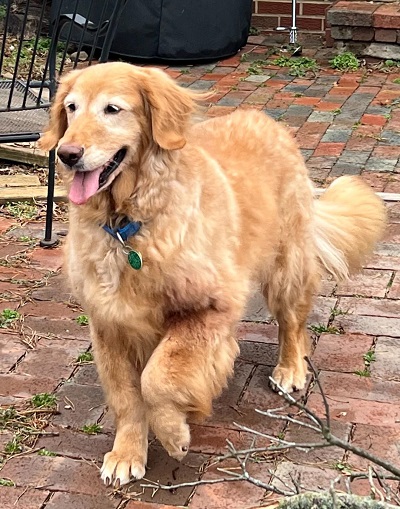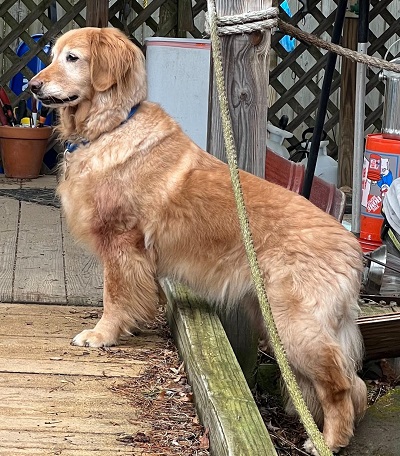 Foster Photo 2-12-2023: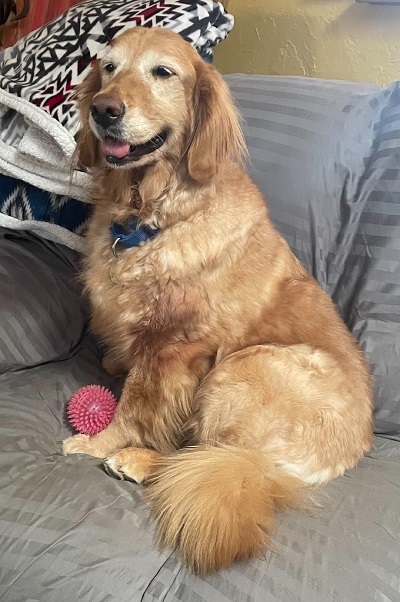 Foster Photos 1-5-2023: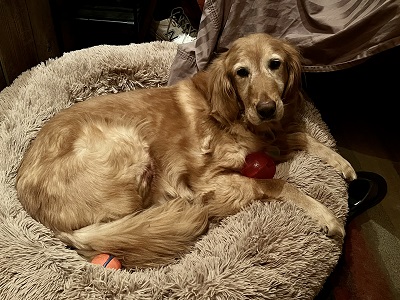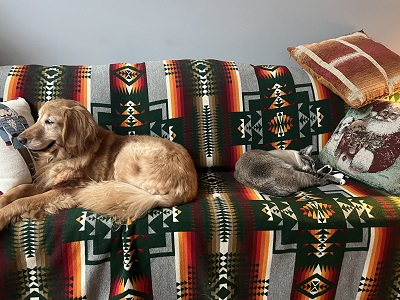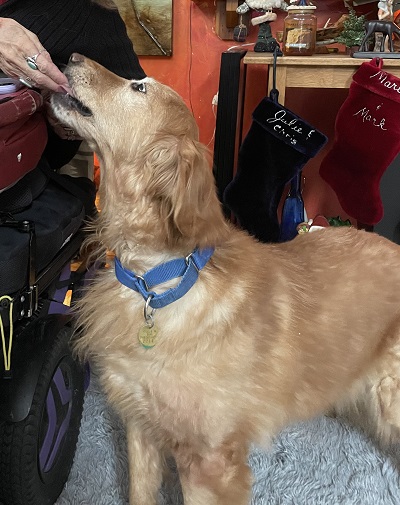 Foster Photos 12-6-2022: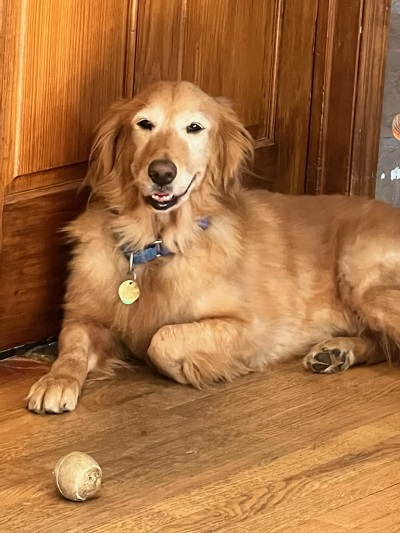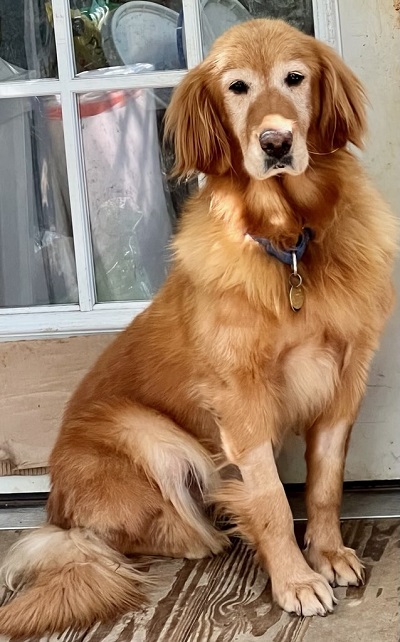 Foster Photos 10-21-2022: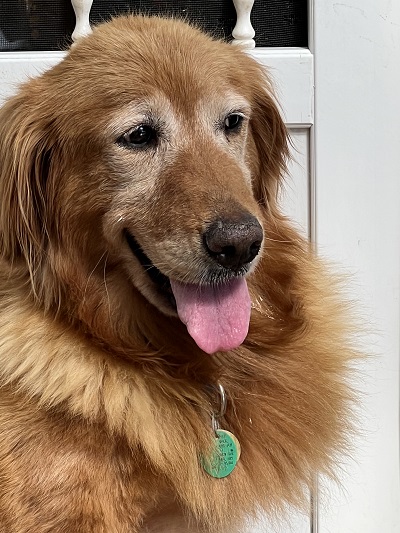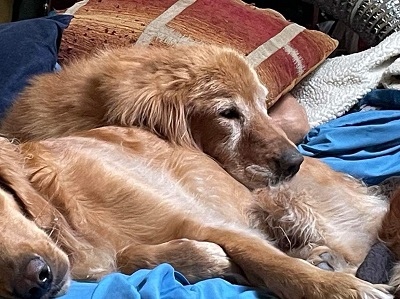 Foster Photo 8-23-2022: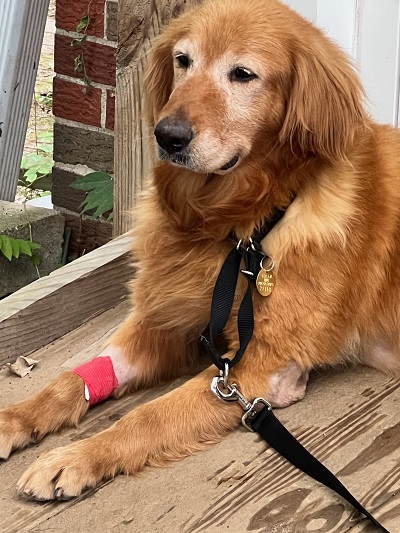 Intake Photos: