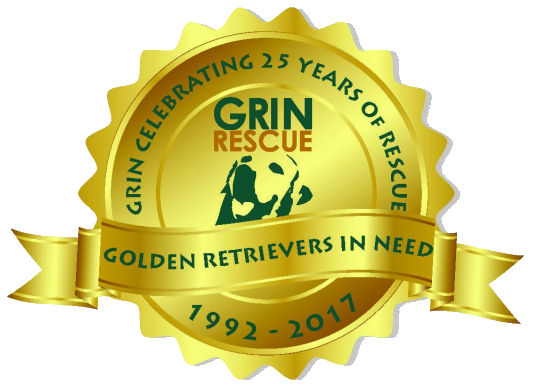 In 1992, a group of Golden Retriever enthusiasts who had the foresight to see the need for rehoming unwanted Golden Retrievers incorporated Golden Retrievers In Need Rescue service as a 501C3 non-profit organization.  They were truly the forerunners of rescue since back in the '90's, rescue was not a common practice.  We are excited to share that 2017 marks GRIN's 25th year of rescue; saving well over 3,000 homeless Goldens.  
Marking 25 years is a milestone which everyone should be proud of.  Together, we can do anything and we do!  
We will be celebrating our 25th anniversary in a variety of ways from a very special Golden Gala celebration you won't want to miss, to custom anniversary bling to GRIN window clings and other anniversary memorabilia throughout 2017.