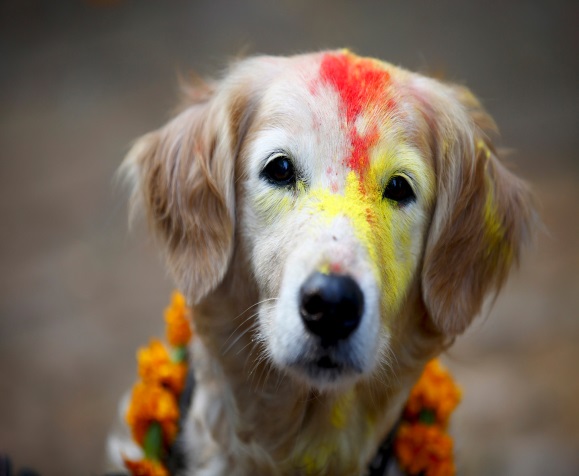 We hope you will join us for this family and canine fun event where we will enjoy ice cream and celebrate our pets! This event is open to the public and all dog breeds are welcome!

Sunday July 15

th

from 12 – 3 PM @ Oak Grove Pavilion - Brecksville Metro Park
Cost is only $15 to attend and $5 for children 10 & under.

It's our summer fundraising event where everyone (not just GRIN members) are welcome to bring their pet friendly dogs for a fun, relaxing and yummy afternoon in the park. No dog? Come anyway and get your puppy fix!
We are excited to have artist Emily M Day join us where she will capture your dogs' personality in her unique style of drawing. The "PawPrints" sketches are $10 per pet drawn. Emily is graciously donating the proceeds back to GRIN. We will celebrating our dogs by adorning them with holi powder as they do in Nepal on the second day of Diwali. During the event, each dog will get a lei and doggie ice cream as part of the tradition.
We will have a very special Blessing of the Pets, a doggie Sundae Bar, complete with whipped cream, peanut butter and fruit as well as kiddie pools for doggie cooling! Humans will enjoy ice cream from Z's Cream & Bean Sweet Treats Cart. We have something for everyone offered in our raffles, even overnight stays! Our talented bakers are whipping up some peanut butter treats for your pups, 2 packages for $5!
Registration is available on the website and Walk ins are welcome! Please click on the following link to complete the online form and pay using the paypal function (paypal account or credit card options) or download and print a copy of the registration form which can be returned via US mail service by July 11th to PO Box 24365, Cleveland, OH 44124
https://grinrescue.org/events/events-calendar/event/98-4th-annual-i-scream-social
We look forward to seeing you! All proceeds of the day go directly to the care and benefit of Golden Retrievers who are brought into our care.
Note we are looking for sponsors for the event for lei's and the Doggie Sundae Bar as well as donations for the raffles. Please contact This email address is being protected from spambots. You need JavaScript enabled to view it. for donation information or questions.