Earlier this year, as my husband and I moved through the foster application process, we were both excited and nervous. There were so many unknowns. We had no idea what to expect in a displaced dog, what we were capable of and what was best for our resident Golden, Luna. But we wanted to make a difference in the path of a dog who needed us, and above all else, we knew the universally good heart of a Golden Retriever. Trusting in that, we figured everything else would work out.
We also knew that whatever the challenges, we wouldn't be alone. We remarked early in the process that GRIN is the most organized volunteer network we'd ever been involved with. Everyone knew their role exactly, connected the next person in the chain, made referrals when necessary, communicated openly and shared the same unwavering desire to help these dogs in need.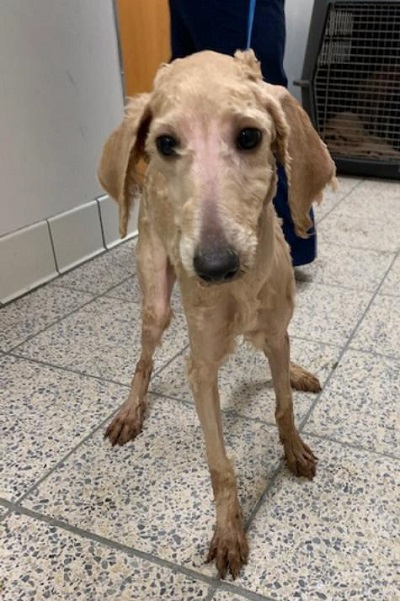 We were asked to foster an 8-month-old Goldendoodle who'd been rescued from a puppy mill. The GRIN network had prepared us for a unique set of challenges that may accompany a dog from this environment. Still, when we found Surge shaking and cowering in fear, I was completely overwhelmed in sadness for what this little guy's life so far had been. But even as I held him on the car ride home, I could tell he willing to trust in my kindness.
Surge was inexperienced with all things of being a dog, and scared of most aspects of daily living in a home. But the first few days with Surge were so remarkable my husband started a journal to keep track of his daily victories – when he learned to walk through a doorway, how he figured out treats followed coming inside, when he climbed steps for the first time, when he grabbed a toy to chew, his first taste of peanut butter, etc. I had only ever met well socialized and confident Goldens, so celebrating Surge's daily triumphs brought a different kind of joy to our house. Every aspect of being a family dog was brand new to him, and he was brave and happy every single day. Of course, there were challenges. Housebreaking was new to Surge, crate training was scary for him, and every step along the way took waiting patiently until he was absolutely ready. Even in the worst of his worries, Surge was generally more curious than afraid. Right away he loved Luna, and we noticed her innate understanding for leading him. Not only did fostering let us help Surge, but it renewed our pride in Luna's good-hearted ways and helped her fulfill yet another purpose.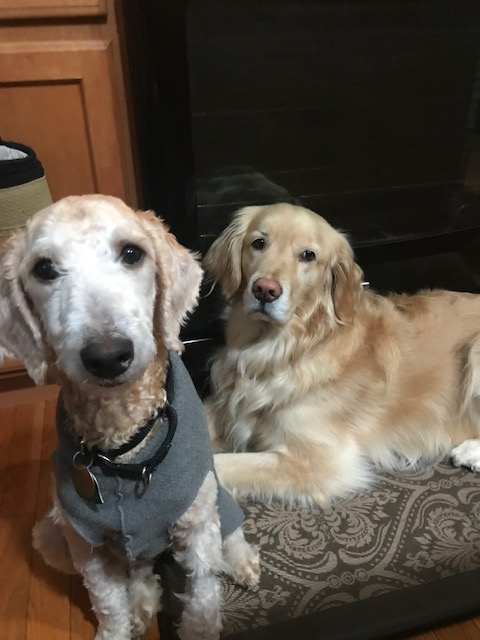 In the end, we failed at fostering. After two weeks, we were out for a walk around our neighborhood. As I watched Surge and Luna walk side by side with all the confidence of knowing where home is, I knew we wouldn't let him go. We got so much joy out of fostering, and next time we plan to see another dog through to walking confidently around their forever family's block.
Meghan