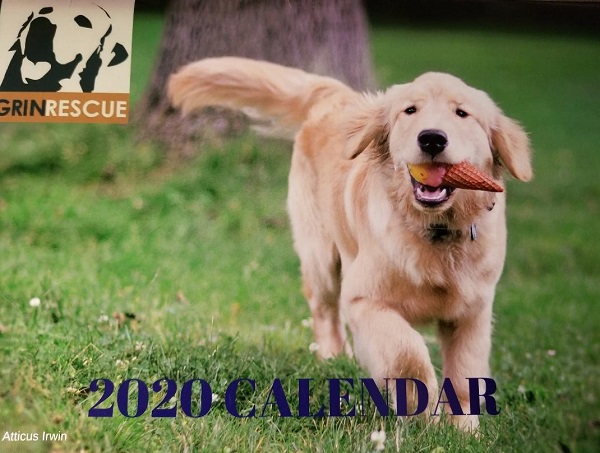 This full color 8 -1/2 x 11" calendar is filled with photos of GRIN member's furry friends. For a donation of $10.00 each
this calendar will make a perfect gift for birthdays, holidays or just everyday use to hang at home or in your office. Why not order a few for those hard to buy for friends and family members! Calendars can be mailed to you for at an additional cost to include postage.
How to get yours:
Online: Order online securely and conveniently by using your credit card or Paypal account via the GRIN Gear Store on the GRIN website at the link below:

Click Here: GRIN Online Store
US Mail: Please complete and mail an order form along with a check made payable to GRIN as directed.
Click Here To Download Printable Form
Quantities are limited so don't miss out!!
Calendar Pinup Acknowledgements
Thank you to all of you who submitted photos of your beautiful and much loved pups for the 2019 GRIN calendar. The pinups for this year are: (drum roll please) –
Cover : Atticus Irwin
Monthly pinups: Zoe & Kirby Chenoweth, Falkor Harlan, Cody Castiglione, Ruby Shuba, Ginger & Parker Haviland, Meko, Shadow & Jessa Delfing, Cooper & Homer Slaybaugh, Abby Sheaffer, Ace Wright, Nemo Kuczynski, Max Nesnadny, Tally & Trooper Bernhard, Tucker & Jaxson Zak, Hinckley Miller, Sonny & Pork Chop Gole, Delly & Beckham Steele, Charlie Sebrasky
There were so many great pictures but many of them unfortunately were not camera quality (sharp and clear enough for large images). If your dog did not make it please try again next year.
Start snapping pictures for next year's calendar! We are always looking for photos that reflect the changing seasons or the holidays.