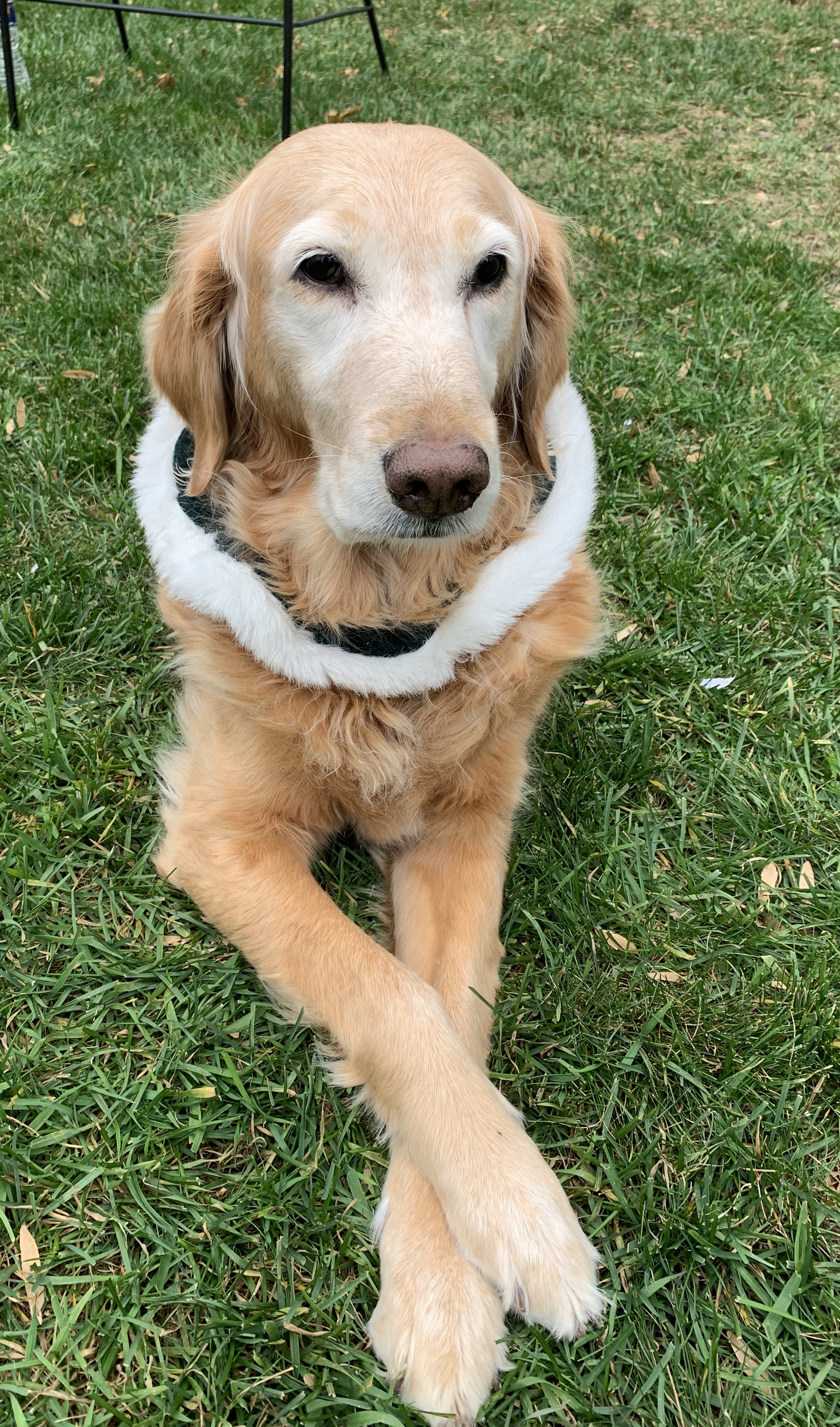 Meet Ginger. This sweet senior came to live with us in November of 2019. She was picked up as a stray and when the owners were contacted they relinquished her. Thank goodness for Ginger! She was underweight, had a number of benign mammary tumors, scraggly fur, and bare elbows (which gave us a clue as to where she may have laid her head).
We had recently been approved as fosters with GRIN when we got the call to pick up Ginger. I am not going to lie when I say we were a little nervous. But those feelings soon dissipated as the support of our GRIN mentor, Denise and other GRIN team members shone. We knew that Ginger was their number one priority, but they also wanted us to succeed as fosters. We truly appreciated the phone calls and emails that checked in on Ginger's progress as well as ours.
It didn't take us long to decide we wanted to make Ginger a member of our family. We had another senior Golden, Scout (Sadly, Scout passed in August) and have a GRIN granddog, Bentley. Scout and Bentley led the way for Ginger by showing her how to adapt to life in a loving home. The adoption process was quite thorough with Ginger's interest at heart. If there is one thing we can say about GRIN is that they want the best --- the best for the Golden and the best for the family.
It's been over a year now and a few things have changed. Ginger is slowly moving out of the six-foot square space she chose to lie in (we affectionately call the space Ginger Island) and she is now often on the sofa. Please know she can go anywhere in our home and we are happy with the baby steps she has taken to move out of her comfort zone. The great thing is that Ginger chooses to be on the sofa cuddled next to one of us.
Thank you GRIN for saving these amazing Golden Retrievers and thank you for the opportunity to give Ginger a home.
Karen and Mike Kilbane