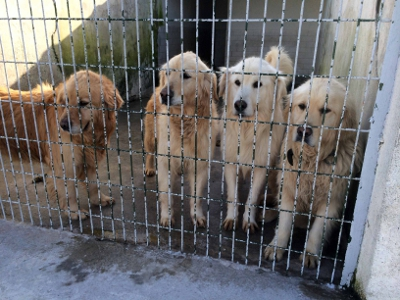 "You don't find love, it finds you. It's got a little bit to do with destiny, fate and what's written in the stars."
In Turkey, there are thousands of stray dogs, many of whom are Golden Retrievers, destined to lead a life struggling to survive in the forests and on the streets of Istanbul. If they do find themselves in an overcrowded and undesirable municipal shelter, the sad reality is few people are interested in adopting a dog. These beautiful Goldens need our love.
The stars aligned for five Golden Retrievers from Istanbul, Turkey who will fly over 5000 miles to arrive into GRIN's care early this Fall as part of GRIN's Buckeye Bound.
Be a part of this rescue effort--enter a new orbit, a universe that features a loving home for ALL dogs-- heaven on earth, not a place to find but a decision to make.
GRIN will change their fate, but we need YOUR help! The cost to transport each dog to the United States is about $1850. Please consider a donation to support a Turkish dog's life-changing journey to America, which includes being a loved member in a GRIN home.
Click here to donate to GRIN