PAW PRINTS IN THE STARS
"You don't find love, it finds you. It's got a little bit to do with destiny, fate and what's written in the stars."
GRIN is beyond happy to continue our "Love Knows No Borders" mission and help rescue dogs from the streets, forests and shelters of Turkey. We are able to bring these precious dogs to America and help them because of YOU! Your continued support and generous donations allow us to provide these dogs with much needed medical and emotional care. Then they go to their forever homes and discover LOVE! From our dedicated fosters, to our wonderful adopters and members of GRIN, we thank you from the bottom of hearts. If you would like to help financially with this mission, please visit the Donations section of this web site. When donating, please reference in the, Notes portion, "Turkey Dog Transport". If mailing a check, you can find our PO Box listed and reference "Turkey Dog Transport" in the memo section of your check. Once again, we Thank You.
We scoured the earth and still couldn't come up with the names for the Turkish Goldens of Transport #6. It was time to look skyward to broaden our horizons. We discovered a whole galaxy of interesting celestial names to choose from. Meet the Turkish "stars" of Transport #6: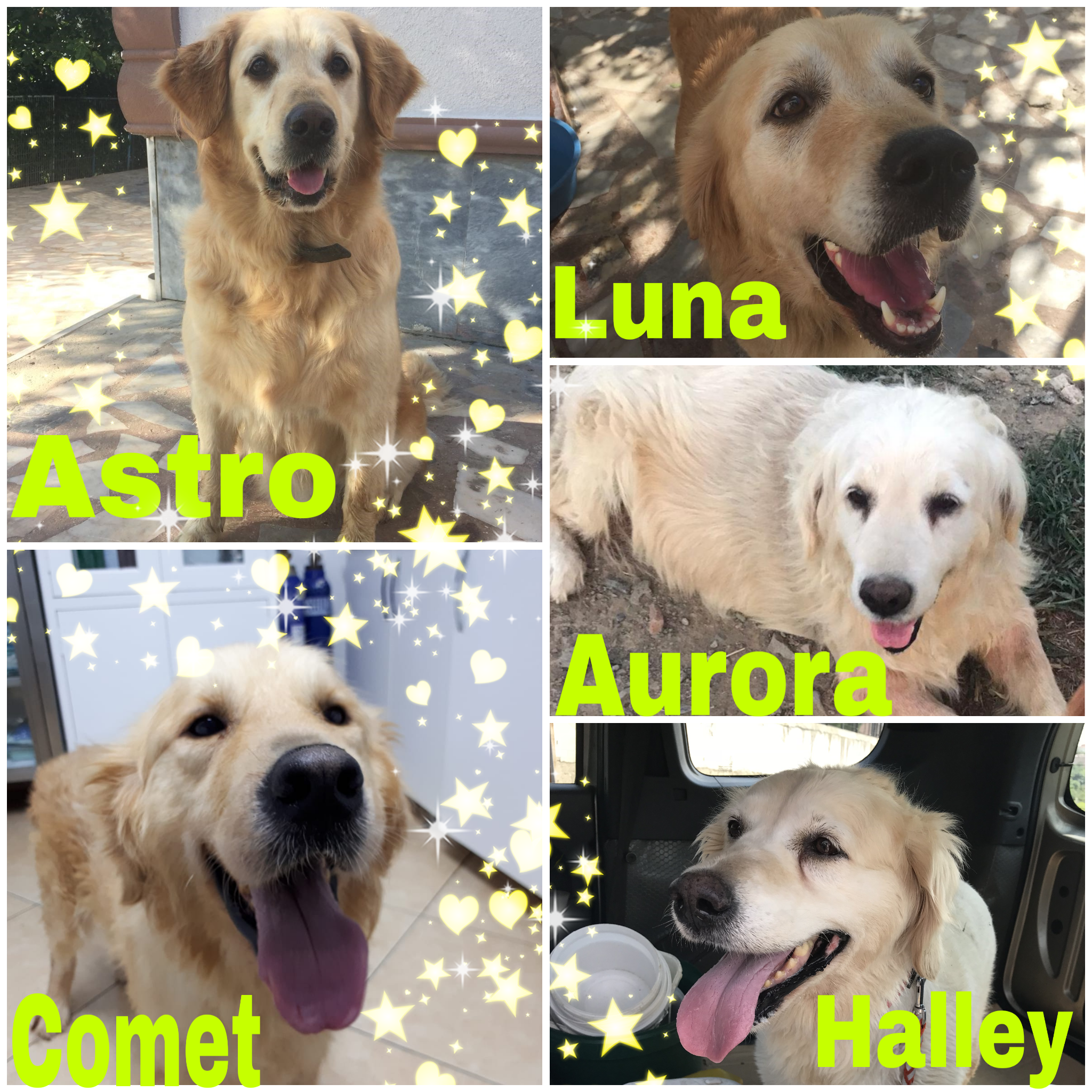 ASTRO
Astro is an active, charming and easy boy who deserves to 'twinkle' in a new life in America. This three year old was found lying under a truck parked on the street. He had mange, and was nearly black he was so dirty. He did not want to come out from under the truck until the rescuer got a leash; he seemed to understand right away that she was there to rescue him.
LUNA
Luna has a 'shining' personality! She is described as a very sweet and active 3 to 4 year old female. She was rescued from Diyarbakir. At some point she was owned and trained, as she responds to several commands
COMET
Happy, easygoing Comet is our youngest star at 1.5 years of age. He was rescued from the Diyarbakir shelter. Like a blazing comet he comes with energy and will surely be a "long haired star" of transport.
AURORA
Aurora is named after the Roman Goddess of dawn and equals in beauty to a morning sunrise! This beautiful senior is our special needs gal. She is only 5 years old, but is considered a senior in Istanbul. She is in need of some dental work and has very bad skin problems. She was found on the streets of Bursa. She is described as awesome, totally friendly with all ages of children, humans and paw friends.
HALLEY
Halley is a 'bright' four-year-old female that was picked up from Üsküdar, a İstanbul shelter. Like her namesake, she has a very 'active tail' that is constantly wagging and is always in a good mood.