From October 10, 2021 10:00 am until October 10, 2021 1:00 pm
Meet Whitney! A 7 month old mill dog that we welcomed into the GRIN family in August. This sweet girl came to us with a jaw misalignment due to an old injury that was left untreated for quite some time. She has been to a specialist for consult and will likely require surgery to address her deviated septum. She is currently doing well in her foster home and learning how to be a dog.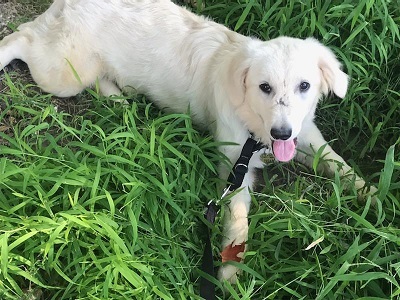 To help offset the cost of care for Whitney, GRIN will be hosting our annual HOWL at the Oak Grove Pavilion at the Brecksville Metroparks on Sunday October 10th from 10:00-1:00. Please come join us as we host a Halloween Breakfast and Costume Contest! This event is open to the public and all dog-friendly dogs are welcome! This year's HOWL is sure to be a "spooky good time" as we will feature fun activities for humans and canines alike- everything from a Halloween costume contest, raffle baskets, bobbing for hot dogs, and our popular "Lickety Split" peanut butter licking contest!
We have several options available to help support Whitney in her road to recovery:
Sponsorships
$500- The Great Pumpkin
$250- Haunted House
$100- Pumpkin Patch
$50- Wicked Witch
$25- Jack O Lantern
$15 Ghouls & Ghosts
$10- Candy Corn
$100 Doggie Ice Cream
In addition to sponsorships, we are currently seeking lottery ticket donations in any amount. All tickets collected will be used for a "Witching Whitney" lottery raffle prize that will be used for our online raffle and mailed to the lucky winner!
Lottery tickets can be mailed to:
Debbie Miller
863 Michelle Ridge Rd.
Hinckley OH, 44233
Registration is OPEN and will end on Wed 10/6 by midnight. Event tickets will be $20 and include a catered breakfast & doggie ice cream for our canine companions.
Unable to make the event? No problem, you can still support Whitney! We will also have an online raffle option for a "Witching Whitney" lottery basket. For just $5, you will get an entry for your chance at the basket and the lucky winner will have the tickets mailed directly to them!
Click Here To Purchase Raffle Tickets
Keep an eye on our website and social media for additional details!
NOTE: Oak Grove Pavilion is on Valley Parkway which is East off Brecksville Rd. (Rt 21) and if you are coming from Royalton Rd. or SR 82, between Chippewa Creek & Meadows Dr. GPS coordinates are 41.30993911,-81.60400916