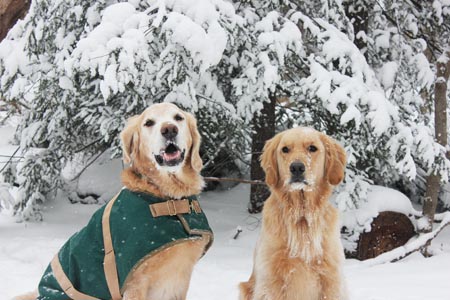 To our GRIN friends and supporters,
From the Board of Trustees at GRIN, we would like to express our sincere thanks and gratitude for the many generous donations made to GRIN this holiday season. Because of your continued and generous support, we are able to continue our mission to rescue and care for displaced and unwanted goldens and find their forever homes. This has been a very challenging year with so many puppy mill goldens and goldens with severe medical issues, without you, we could not have rescued and continue to care for these goldens.
We wish each and every member, volunteer, family and friend a very healthy and Happy New Year!
Holiday Gifts to Honor, Tribute and Memorials
Jim & Joanne Voight
In honor of all you do through GRIN!
Jane Frazier
In honor of Baley and in memory of Smokey
Jim Fleet & Renie Wirkus
In honor of Bravo & Duke, in memory of Sienna
Judy Eakin
In honor of Buc
Brittany Gesing
In honor of Dahlia "Sunshine" Gesin's first birthday 10/21/22
Debra Engel
In honor of Daphne
Emily & Cam Posney
In honor of Darcy
Jim & Sue Lechko
In honor of Duke
Dan & Susie Quinn
In honor of Duke now Dukey
David & Martha Grumbach
In honor of Ginger and in memory of Chase, Champ & Ben
Kim & John Fields
In honor of Ginger, Buddy & Bear
Kim Mitchell
In honor of Henry
Debbie & Jerry Miller
In honor of Hinckley & Harrison
Ron & Karen Barton
In honor of Horton
Allan & Merry Anne Szidik
In honor of Hunter, Hailey & Harrison Szidik
Terri & Dave Giorgis
In honor of Jasper
Jeff Barina
In honor of Laura Barina
Debra & Dennis Bornes
In honor of Lexi, in memory of Paisley
Kay Masters
In honor of Milo
Dan Passinault & Gina Byerlein
In honor of Molson, our beloved Golden from GRIN
Darrin & Stephanie Kuczynski
In honor of Nemo
Joni Naseity-Beade
In honor of our precious pups
Daniel & Leona Russo
In honor of our Turkey Dog Tootsie
Sharon Phillis
In honor of Randy Deal
PK Weston
In honor of Rosie, Hope, Annie & Buddy
Mary Owen
In honor of Sadie
Rich & Renee Quinn
In honor of Summit, Sally & Honey
Allie & Ryan Surface
In honor of the Peanuts Gang Pups of 2021
Jimmy Ring
In memory of all our Golden pups; Samny, Molly & GRIN pups Murray & Admiral
Dave & Ellen Schutter
In memory of Babe & Cody
Steve & Shellie Arms
In memory of Beau & Bella
Pam Bernhard
In memory of Briggs Bernhard
Al & Toni Jepson
In memory of Brinkley
Cheryl Thomson
In memory of Charlotte
Ken & Jan Okeson
In memory of Cher
Kathy & Peter Stipanovich
In memory of Gabby
Melanie Hunter
In memory of GRIN pups Casey, Mindy and Riley and Edward Hunter, Riley's Dad
Rochelle Latkanich
In memory of GRIN senior boy Douglas & GRIN Turkey dog Sundance
Kathleen Morrison
In memory of Jim Morrison and Brandy and Lindy GRIN girls
Donna & Manohar Asnani
In memory of Leo
Roy & Lynne Aber
In memory of Maggie and Keefer
Caitlin Klajnowski
In memory of Max Rothrouff, In honor of Frankie Weir and Luna Klajnowski
Tom & Mary Ann Halfhill
In memory of Max, Czado & Denver
The Guerrieri Family
In memory of Mia, Sophie, Bella & Penny & Nikki
Maureen Chytracek
In memory of Michael Chytracek
Elizabeth Dorcik
In memory of my husband Matthew
Jim & Marcy Henyey
In memory of Oscar Henyey
Jon & Denise DeHass
In memory of our GRIN dog Quincy
Kathy Altieri
In memory of Patsy
Randy Deluga
In memory of Peggy Keough
Sue Randall-Alexander
In memory of Precious
Nancy Peterson
In memory of Riley, Shaemus, Isabella (Bella) and Annastasia
Anita Flyer
In memory of Robert Flyer
Ron & Trish Gibbons
In memory of Sammy
John & Karen Ploscik
In memory of Samson, our beloved Golden
Marlene Goldman
In memory of Sheldon Goldman
Rose Nolan
In memory of Stanley, Nellie & Leon Chalwa
Kathleen Pilny
In memory of Taffy & Sydney
Janice Menegay
In memory of Tank
Tom & Marta Weithman
Kathleen & David Zock
Bonnie Sweebe
Charles Royer
Barb & Bill Eitel
Sharon Schoenegge
Tracie Tsai
Laura Diesing
Diane Koscelnik
Justine Blossom
Bob Hasinski
Walter Mandell
Sharon Dorman & Herman Turner
Jan Nawalaniec & Christina Goloversic
The Tara Marie Fund Holiday Gifts
Maria Zoul
For the continued work of the Tara Marie Fund
Jane & Lennie Kueking
In honor of Wrigley and in memory of Luke, Johnny & Polly